Baked fish in papillote with tomato and spinach is a relatively recent addition to the Christmas Eve fish dinner. This course was the last and best of the evening. The recipe is my mother's and although the method of baking in parchment paper is not Italian, the recipe of fish baked with tomato and spinach certainly is.The use of parchment paper as an envelope in the baking keeps the fish evenly moist. In my mother's original recipe the fish was orange roughy. While I was working on the recipe I discovered two things.First, orange roughy is on the rather expensive side. Second, orange roughy is on the over-fished list. With these two considerations, I set out to find a substitute.


Orange roughy

http://en.wikipedia.org/wiki/Orange_roughy

---

The selection happened rather easily and fortuitously. Since I was experimenting with the dish my first thought was to find something inexpensive. The place to go for fresh inexpensive fish filets is Washington Avenue. Sure enough, no sooner did I approach the extensive fish counter than my eyes fell on beautiful large pieces of pinkish white swai filets. Swai is also called bassa.


At less than $3.00 a pound it was the perfect choice. Even more, when I put the swai to the test, it was actually far more sweet and delicate than the orange roughy. The wonder of this recipe is that it could not be simpler to prepare. If you don't have parchment you can always use aluminum foil.


________________________________________________________________________________________________________________________________
Equipment

Wok or Sautée pan
Baking pan
Parchment paper or aluminum foil

Ingredients

Swai filets cut into good sized squares

Tomato, preferably

Cento

San Marzano whole peeled

Spinach

Olive oil

Garlic

Parchment paper

---
The Mise-en-place, getting things together. Always have all your ingredients prepared and ready.


_____________________________________________________________________Cooking
Serve and unfold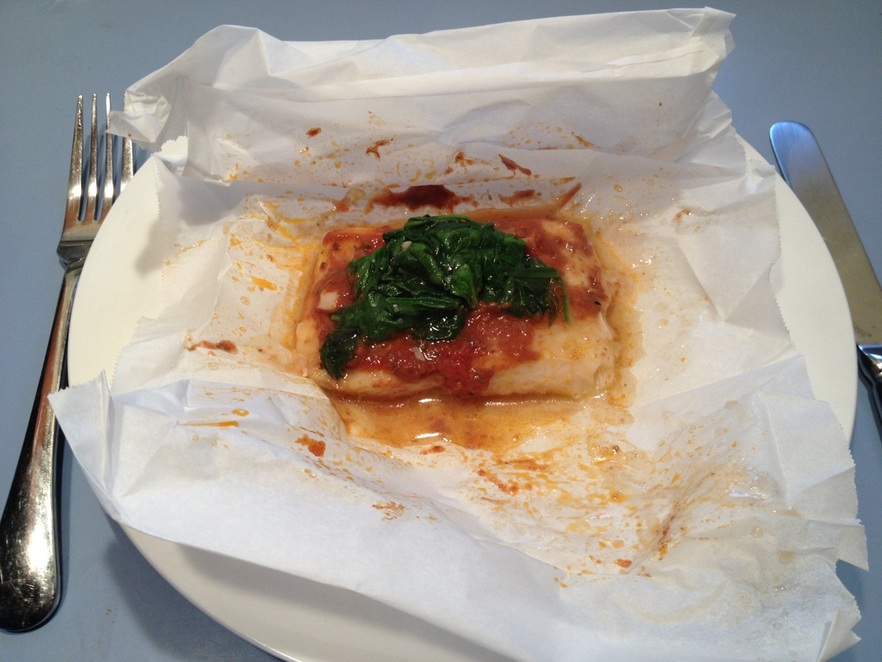 ---