It's Saint Patrick's Day. It's not an Italian holiday, but every Italian will tell you that Saint Patrick was a Roman. So, I'll include his dinner here. Besides that, how many Italian Americans these days are also half Irish.
I sure am.
In America what other dish suits the celebration of Saint Patrick's Day but corned beef and cabbage. What dish could be more appropriate and more traditional? Well, I'm sorry to tell you this but corned beef and cabbage is not Irish. In Ireland corned beef and cabbage is unknown except in tourist trap restaurants.Restaurants in Ireland that serve corned beef and cabbage are much like restaurants in Rome that serve spaghetti and meatballs: restaurants that capitalize on clueless American tourists.

In the Ireland of the past centuries cattle were not that numerous. What cattle there were provided milk products for the peasantry. If a cow was slaughtered the meat was reserved only for the tables of the landholding nobility,the Anglo-Irish who had taken the land from the natives. If there was any meat on the table at all, the meat came from the low cuts of cured pork. Even for pork, the land owners got the better pieces. They ate "high on the hog." Even in the Ireland of today the closet recipe to corned beef and cabbage is what the Irish call bacon and cabbage. The bacon is not he strip bacon that we know in America, but more a smoked or cured butt roll not unlike Italian pancetta.



The Jewish Influence

It seems that the use of beef was not common among the Irish until they came to the more bountiful New World of America. One of the beef cuts they began to use was beef brisket, an inexpensive cut. A variant of the brisket is corned beef and where did the corned beef come from? It came from the local Jewish butchers in the immigrant ghettos. While Jewish butchers had beef, they certainly did not have the traditional Irish pork. Since the Irish were never known as purveyors of meats and produce they relied on other ethnic groups. Gradually, corned beef replaced the Ole World Irish pork butt.


---

The other point worth mentioning is the word, "corned." "Corn" in the case of corned beef has nothing to do with corn as you find it on a cob. Nor does it have anything to do with cattle that have been fed corn as some might believe. "Corn" is an Old English word meaning "kernel" or "grain" and refers to the grains of salt that were used to preserve the meat.


Pork Butt

While Jewish corned beef gradually became the foundation of the Saint Patrick's Day boil, in some homes, the memory of the traditional fare based on pork lingered. When I was a kid, my mother, a third generation Irish whose ancestors arrived here early on, did not use corned beef. My mother made her Saint Patrick's Day boil from a preserved pork or ham butt.


---

"Ham" and Cabbage

We just called this dish, "ham and cabbage." Sometimes my mother referred to it as New England Boil and for good reason.The pork was boiled for an hour in water seasoned with mustard and celery seeds. Into the boil went large, almost whole vegetables.The carrots were big and fat, sometimes whole and sometimes cut in half. The cabbage was cut in large quarters; the potatoes sliced in half. Everything was big and full and hearty on a cold, gray March 17th.The boil was served into your bowl with a very large serving spoon.On the side, there was yellow mustard, plain old American yellow mustard from the A&P to dab on each forkful of ham and cabbage and potato. This was a simple dish. In some respects it was a crude dish. There was nothing refined or complex. It was the stereotypical Irish boil that rendered an almost colorless and dull looking dinner. Only the carrots manage to maintain some personal tint.

---

T Yet, this dish is so rich, so satisfying, so simply good. The potatoes and carrots and cabbage combine in savory pillow of taste and texture. Perhaps it was also the fact that this was a dish that happened only once a year and warmed the evening in the gloom of late winter. The Saint Patrick's Day boil was a festival dinner that stirred a feeling not unlike that we had for Christmas Eve fish dinner. The too, Saint Patrick's Day dinner also signaled the upcoming

Saint Joseph's Day

with its zeppolle, cannoli and sfogliatelle. But that's another story.

For the recipe that I set out here, I bow to the American tradition of corned beef rather than the traditional pork butt. You cannot fight what the grocery stores set out in their meet counters. How can you compete with those beef briskets in their shamrocked, shillelagh wielding, leaping leprechaun on his cryovac package? Frankly, I find the pork butt far more interesting, so if you agree, just make the substitution.One of the most important methods of this dish to leave all the vegetables as whole as possible. You want big pieces, big chunks. The beauty of this dish is not in any kind of refinement. Its beauty is in its massive assemblage. I have used beer for the boil but you can use water as my mother did. I've changed the mustard to a French variety, but for the "in your face" thrust of a simpler style, use Goulden's Yellow, not even Goulden's Brown. When you eat this dish try to get as many of the ingredients as you can on each forkful. Corned Beef Boil is not "fine dining." it's great food.

Getting it together: the mise-en-place.
This is the most simple recipe of all. It's Irish. There's nothing complicated. Just chop and boil.
What you need.

Equipment
Sharp knife.
Very large pot.



Ingredients


Beef brisket (0r, more authentic, a pork butt.).
Cabbage: one head.
Carrots: several, whole.
Potatoes: several whole.
Carrots: several whole.
Turnips: several whole.
Parsnips: several whole.
Guinness: optional. For a lighter broth use regular beer of even water.
Mustard: French or America yellow.
Spices: salt, pepper, coriander, celery seed, pepper flake.




---
Getting it together: the mise-en-place


The Cooking

Corned beef


Set the corned beef or pork butt on top.
Set it fat side down.
Set the wedges of cabbage over the meat,

---

The Boil


Cover the pot and bring to a boil.
When the pot is boiling, lower the heat and let the pot simmer for two hours. Check periodically and press the corned beef down into the liquid.
Test the potatoes. They should be soft.


---
Plate and serve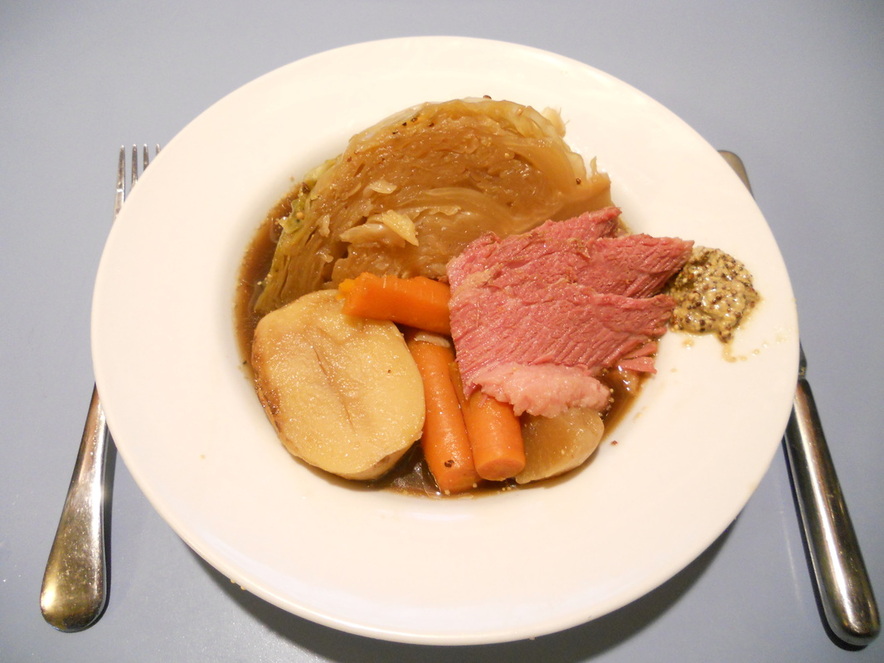 ---