Stuffed calamari, stuffed squid, is a dish that I remember from childhood precisely because I wouldn't touch it. I think for children and for many adults, the very word "squid" is a turn-off. Words that begin with "squ" seem to suggest something unpleasant. Squash is another food that suffers from this linguistic problem. The association of "squ" words with things not always appealing had some foundation. Just think of the lexicon of "squ" words: squirm, squat, squint, squeal, squish, squalor, squander.The very "skwah" sound of these words is not appealing.
I may be speculating without sufficient reason, but I would suggest that another very clear indication that the "squ" of "squid" is the thing that turns folks away from this dish is the fact that its fried version is very popular. The fried version is called "calamari," a word that has not only has no negative connotations but may even be charmingly alluring.



For whatever reason, stuffed squid vanished from the Christmas Eve menu quite some time ago. I think it's time to bring it back. The trick of stuffed squid is that it takes a very long time to braise. Like octopus, squid is edible in one of two extreme ways. Squid must be cooked very rapidly with a quick fry or searing or it must be braised for about two hours or more. Anything between the extremes is shoe leather. Stuffed squid does not lend itself to the quick method. Stuffed squid requires braising. The braising melds the sweetness of the squid with the sweetness of the tomatoes. The wine, garlic and other ingredients enrich the dish with multiple layers of taste. Find another name for this dish and everyone will love it. Serve it not only for Christmas Eve but any time alone or as a first course before a roast.


What you need
Equipment
Sharp knife
Heavy sauce pan with lid
Tooth picks

Ingredients

Large squid (whole as shown here or cleaned) Note: the box of frozen squid are too small for this recipe.
Mushrooms (optional)
Bread crumbs
One egg (not shown)
Whole canned tomatoes
Olive oil
Wine
Oregano
Garlic
(optional other ingredients)
Capers
Pignoli nuts
Raisins
Chili pepper to taste

---
The Mise-en-place: getting it all together. The most important part of cooking is having all ingredients prepared and ready to use.
Tentacles and wings

Sever the tentacles from the head and eyes. Chop the tentacles.
Slice the wings from the body of the squid.
Chop the wings.
Set the tentacles and wings aside for the stuffing.

---

Mushrooms

Dice the mushrooms as fine as you can. Save them for the stuffing.
Mushrooms as optional but they add flavor and texture.

---
Stuffing
Stuffing

Mix bread crumbs, chopped tentacles and wings, salt, pepper an egg and any of the optional ingredients to suit you taste and imagination.

---

Stuff the calamari

Stuff the squid. Be sure to push the stuffing down.
Stop when you have about and inch left. Don't fill to the top. The squid will shrink as they cook.

---
Cooking
Brown the squid, add the wine

Heat some olive oil to cover the bottom of the pan.
Brown the squid to a light golden color on both sides.
Add about one half cup of white wine.

---

Crushed tomatoes

Add the tomatoes, the garlic and any remaining stuffing.
Bring to a slow boil. Reduce the heat to a slow simmer. Cover the pan and simmer for two hours.

---
Plate and serve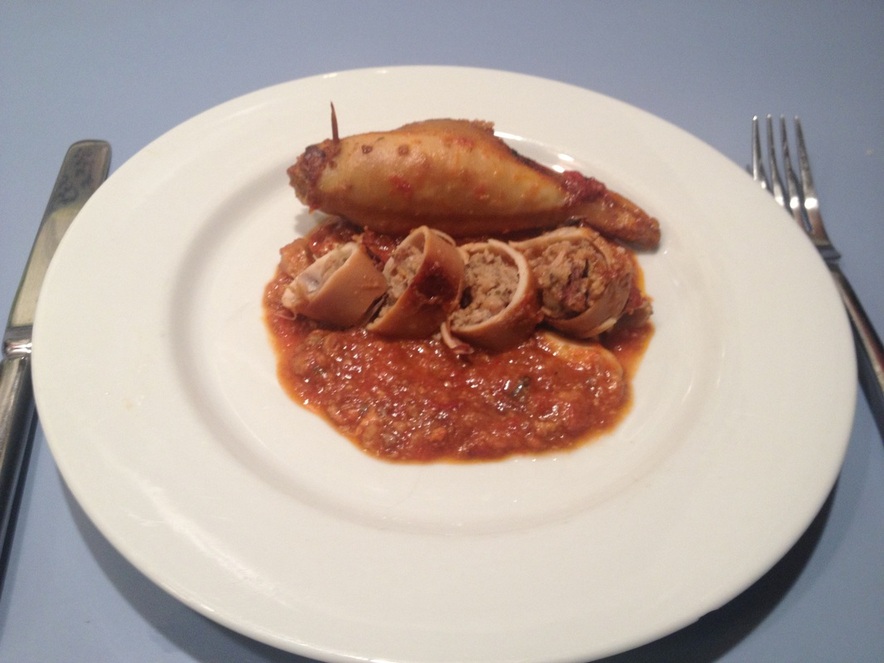 Stuffed Squid, Calamari imbotitti
---