The cold blue skies scratched by far stretching fingers of stratus clouds signal the end of summer. At the shore, sharp silver knives of light squint the eyes as they bounce from thundering double high waves of white foam. This is the time for crabbing, the time for vegetable stews, fresh tomato sauce and of course, fruit jams and preserves.

Jersey Fresh


The farm stands along Mullica Hill's 322 groan with the weight of fruits and vegetables the colors or a child's paint box. In my memory I see the summer garden of my childhood: the sickle pears, the raspberries, the grape arbor. I see the pantry filled with bushels and pecks of peaches and tomatoes and apples that my father bought at New Jersey farm stands.

---

---

My mother is at the stove, stirring, In addition to the fruit preserves were the jars of preserved tomatoes and jars of tomato jelly I really do not recall how the tomatoes were used. My mother tells me that they were a kind of aspic. But I do not remember them on the table. Perhaps they went into the Sunday gravy. But that gravy was so dense it would have overwhelmed the sweet subtleties of preserved summer tomatoes.



The preserves I offer here require little more than reheating, no more than 10 to 15 minutes. They are certainly not the old time all day Sunday gravy. Her wooden spoon turns and turns in the blue-black enamel pot spotted with white licks. Her pot bubbles and foams. Mom stirs and stirs, faster and faster. The bubbles explode, the foam subsides. The kitchen is hot even with the windows open. This is the time to make the jellies and preserves that will sweeten winter's table. This is the time to can tomatoes for holiday sauces. Mom sieves the fruits through a cheese cloth. They render a "must" of thick sweet cream that she sets for us in little bowls. Raspberry is the most heady, most fragrant, most telling of summer.

My mother was of Irish lineage. When it comes to food an Irish background is not much of a recommendation. But my mother learned a great deal from her Italian mother-in-law. Beyond fundamental Italian recipes for pasta and other Italian dishes, one of the most important things my mother learned was how to preserve fruits and vegetables. While I can readily see how Italians preserved tomatoes, I have never been able to find how they came about making jellies and jams. Still and all, jellies and jams we had. The cupboard in the basement was fully stocked with Mason or Ball jars of peach and blueberry and raspberry.



CERTO


When I tried to recreate my mother's jams and jellies I asked for her advice. "Just follow the instructions on the Certo box," she said. Well I did that. At least I thought I did that. And the nothing ever quite jelled. The instructions tell you to boil the fruits until when stirred they do not collapse. I'm not sure how the Certo folks mean that, but it took me a few summers to finally find the answer. And here it is:

When you boil the fruit and sugar it will mount up to more than twice its original size. You stir it.
At first, the stirring will break the air bubbles and cause the mix to collapse.
But then, it will rise again.
The trick is to keep stirring and keep collapsing until the mix does NOT rise again. It will stay flat.

When the fruit and sugar mix remain at the original depth in the pot, the preserves are ready. At that point add the pectin. Stir again for a minute or so and ladle the preserves into the jars. Fruit preserves are a delight during the winter. Nothing returns blazing July to brittle January than opening a jar of raspberry jam.



---
______________________________________________________________________________________________________________________________

Getting Started : What You Need
_______________________________________________________________________________________________________________________________



Ingredients


Sugar
Fruit
Pectin
Lemons (juice)
Consult the instructions that come with the pectin. Each fruit requires a slightly different amount of sugar.



__________________________________________________________________________________________________________________________
The Process


---

Pectin


Open the pectin and set the packets in a mug so that you have them ready for the boil.


---
Boil jars


Boil the water in the enamel pot.
Add the jars and lids to completely cover them in boiling water.
I boil them for at least 20 minutes to sterilize them.
In the meantime prepare the fruit.


---

Prepare the fruit


Preparing the fruit as required. Peel peaches, apples, nectarines etc.
If you have a very good peeler such as a
you don't need to blanch them in boiling water. If you don't have a good peeler, one minute in boiling water will loosen the skins.


---
Crush the fruit & add lemon juice


Using an immersion blender or other blender to crush the fruit. The old-time method, which renders a chunkier preserve is with a simple potato masher.


---

Crushed fruit and sugar


Add the required amount of sugar and cups of crushed fruit to a very large pot.
Remember - four cups of fruit will triple in size when it boils.


---
Bring to a boil several times


Stir the sugar and fruit constantly as it comes to a boil.
Once the boil starts you can leave it for a minute or two - but not too long. You don't want it to burn.
When you stir with a wooden spoon the mixture will go flat and then slowly rise again.
Here is the trick. When after rising back two or three times, the mixture will eventually stay flat. This is the level you want.

---

Flat boil


The "flat boil."This is the key that's not on the box!
When the mixture STOPS rising again, (after about 20 minutes) it is ready for the pectin.
Note the high mark line in the pot. When it stops returning there it's ready.


---
Pectin


Add the pectin according to the instructions in the box (usually two packets).
Stir for another minute.


---

Jars and ladle


Remove the jars from the sterilizing boil.,
Add water if it has evaporated.
Let the boil stay on the stove while -
Using the jar funnel ladle the jam into the jars.
____
Clean the edge of the jars of any drippings. Screw the lids on hand tight only.
____

Place the jars in the boiling water. The jars should be covered by an inch of boiling water. Check the instruction for each fruit, but for most the boil is about twenty minutes.
Preserves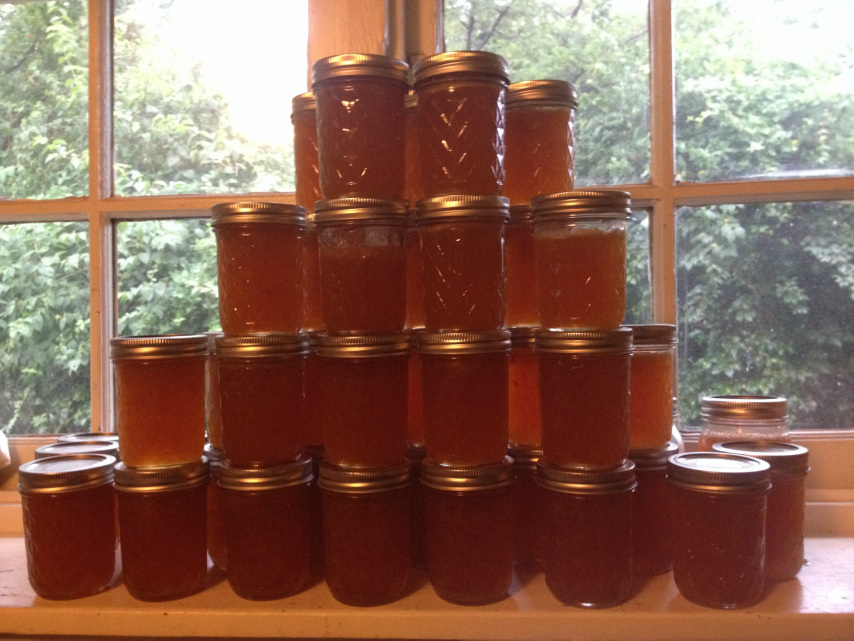 Remove the jars. Let them cool overnight. Tighten the lid and store.

---