Eggplant and Shrimp Soup has no history and no tradition in the Italian American kitchen. Eggplant and shrimp soup is an immediate and impulsive response to what I found at

Pete's Produce

and at

H-Mar

t. Eggplant is such a versatile vegetable. There's nothing you can't do with it. When baked, the eggplant's flesh can be easily puréed and so serve as a thickener. In this way you can create a kind of velouté without the addition of cream, butter or flour. Puréed eggplant would be the main ingredient. With that part of the recipe settled I then argued with myself whether or not to keep the soup meatless or not. My carnivorous side won out. I went for a chicken stock, even though I think this soup had enough flavor to work without it. I always make my own chicken stock from a small package of chicken backs. For one thing it's cheaper than the packaged kind and it contains only what I put in it. Then too, you have the makings for a chicken salad sandwich which package stock doesn't have.

The other ingredients all fell into line: peppers, onions, garlic. As it happened, I was also in the process of making eggplant stuffed with rice and shrimp. I had more than enough shrimp for the stuffing. Why not add a few shrimp to the soup? Then the peaches on the windowsill caught my eye. No question: they had to go into the mix. I also sensed that at least one hot chili pepper would give the soup fuller dimension, but I also knew that if I put the chili in, no one else would eat the soup but me. Let everything boil for about forty minutes so that all the ingredients soften. To finish the soup off you need either a wand or a blender. Garnish with very thin slices of cold cucumber, a little sour cream or yogurt and some chives.


What you need

Getting it together: the mise en place


Eggplant


Cut the eggplants in half and set them to bake in the oven for at least an hour. At the end of an hour, press through the flesh to see if it is soft.
While the eggplant are in the oven, continue with the other ingredients.


---

Onion


Finely dice the onion. I'm using red because this is what was fresh from Pete's Produce. Set the onion to the side.


---
Everything together


All the ingredients ready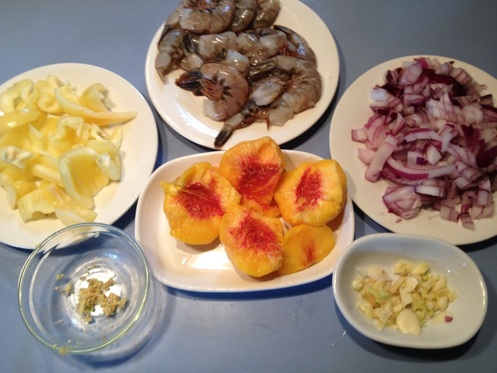 With the eggplant in the oven, all the other ingredients are now ready.

---
The Cooking

---
Serve with a dash of yogurt and finely diced cold cucumber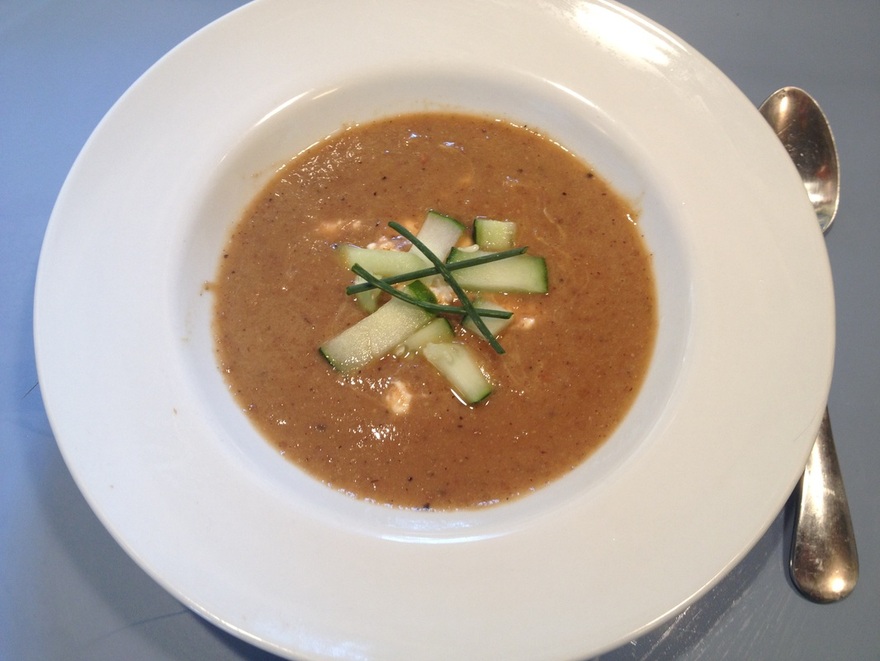 ---