Italian date cookies are relatives of

"cuccudati,

" and a member of that family of fruit filled cookies that include Italian date cookies, rugula and even fig newtons.

As with all fruit stuffed cookies of this type the variations are as numerous as the people who make them. This recipe includes chocolate chips. The chocolate makes a great partnership with the dates. You may also want to add some kind of chopped nut to accent the texture.


---
Getting started - What you need.
Equipment

Food processor
Rolling pin
Baking tray
Cooling rack
Parchment paper



Dry ingredients and butter

Put dry ingredients and zest of one lemon in a food processor and pulse a few times to blend.
Cube the butter, add to the dry and pulse again until the flour begins to bead.

---

Eggs and milk

Whisk together the eggs and milk and with the processor running drizzle into the flour/butter.

---
Bake

Set out the date cookies on a baking tray lined with parchment paper.
Bake at 350 for about 18 minutes.

---

Glaze

When the cookies have cooled coat them with a confectioner's sugar and lemon juice glaze. Decorate with colored sprinkles.
(With the dough from the trimming I made small cookies and fixed each with a date.)

---
Serve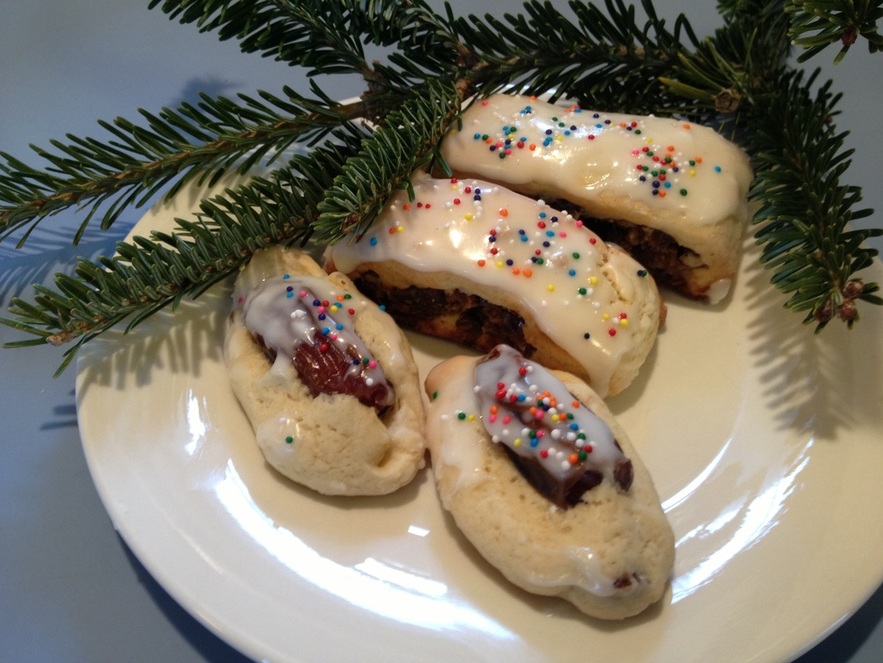 ---