Fish Stew Portuguese Style may not be specifically on the recipe list of the Italian American Kitchen, but it is without question, a very close cousin. When we were kids we spent the summer at our house on the beach at the Jersey Shore. As a teenager I worked at the fishing pier in front of our house. I was up before six. My first job was to portion out the big box of blood worms, used as bait for the bluefish, into dozen containers. While I was sorting the worms the ice man came by with his solid block and his buckets of crushed ice for the coolers. While the ice man was on the pier, my younger brothers would be down below the pier ramp in the street collecting the chunks of ice that had flown from his crusher. Those big ice chunks would go into our iced tea that evening at dinner. I don't know why, but I never brought home any fish from the pier. For dinner fish we would go to Cold Spring Harbor. We would meet the fishing boats when they came in.

Porgies

and weakies were the standard catch. Sometimes they gave us blowfish.

Blowfish


My aunt would take the blowfish, cut off their tails and fry them up. These days you hear about adventurous Japanese chefs who know how to serve the deadly poisonous blowfish. We never knew blowfish were poisonous.

Blowfish tails

were a common feature at the summer table. And the old folks knew how to cook them.

---

There was also whiting served as a salad, conch salad and all kinds of broiled and fried fish to say nothing of the

clams

,

mussels

and

crabs

. While we had all these dishes, especially on Fridays, I don't remember ever having any kind of fish stew. My first fish stew was not even in America, it was when I was a student in France. My first fish stew was the queen of all fish stews, bouillabaisse, served in the docks of Marseille. I'll never forget the shock to my lips and tongue. My mouth had never experienced anything so gelatinous and so intensely riddled with garlic. To this day I can still bring the feel and smell back to my mouth and nose. At that time and at my age, with no experience in such complex flavors I cannot say that the initial experience was a pleasure. Even so, I kept working on developing a taste for it.

Many years later, back home, I began working on bouillabaisse. I went through every version from Julia Child to Gourmet Magazine.The arrival of the internet offered countless examples. Not one of them even remotely resembled my experience on the docks of Marseille. For one thing, we do not have the gelatin loaded Mediterranean fish that are the distinctive elements of bouillabaisse. Somewhere in my explorations, I gave up on bouillabaisse as such and turned my attention to more open fish stews. One of the results is here on The Food Table under

http://www.thefoodtable.com/zuppa-di-pesce.html

But I have not stopped looking for more ideas for fish stew, even after my recipe for Zuppa di Pesce. I continue looking and making and tasting. Clifford Wright's exceptional "Mediterranean Feast" devotes enticing pages of recipes for fish stews. Ana Patuleia Ortins "Portuguese Homestyle Cooking" seduces the culinary imagination. The fascinating layering technique of her "Caldeirada com Mariscos" (Fish Stew with Shellfish) is the foundation of my version here.

I rounded out her recipe by extensive research on Google Portugal. Google.PT offers recipe after recipe: so many of them golden creations enhanced by Iberian saffron.

---

While I stayed with Ortins' technique which seemed too wonderful to ignore, the final voice in my stew is the fish guy at the local

H-Mart

Korean grocery store. I told him that I was making a stew and asked him to select the fish. I trust this man in his understanding of fish. (I've even had sea squirt at his suggestion.) For my stew he proposed monk fish, white bass and porgy. "They're cheap," he said. Other fish, he noted, "too expensive for stew." When I balked a bit on the porgy, "too many small bones," I whined. The bones he insisted were essential to the flavor of the stew. He gutted one of each. The fish he have me were less than $4 each. To the fish I added shrimp, clams and a few oysters. Now, I know the fish guy at H-Mart would have objected, but I did peel and dehead the shrimp. After many a dinner along Washington Avenue I have learned that Asians eat the whole thing. I am sure my version of a Portuguese caldeirada is a pale shade of the real thing. Even so, the technique of the arrangement in the kettle is surpassed only by the beauty of the fish when the lid is raised. The broth that derives from the single cup of white wine and the natural waters of the fish and shells is a liquid ambrosia. I must say, that while a fork and spoon may be on the table, I eat this stew with my fingers around a slice of Italian bread.
What you need


Getting it together - La mise en place


Everything ready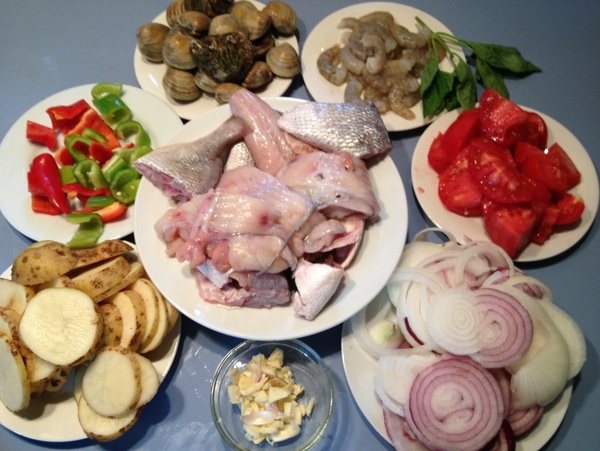 All ingredients are now ready to be assembled in the way that Ana Patuleia Ortins describes in her "Portuguese Home Cooking."

---
Cooking

Plate and serve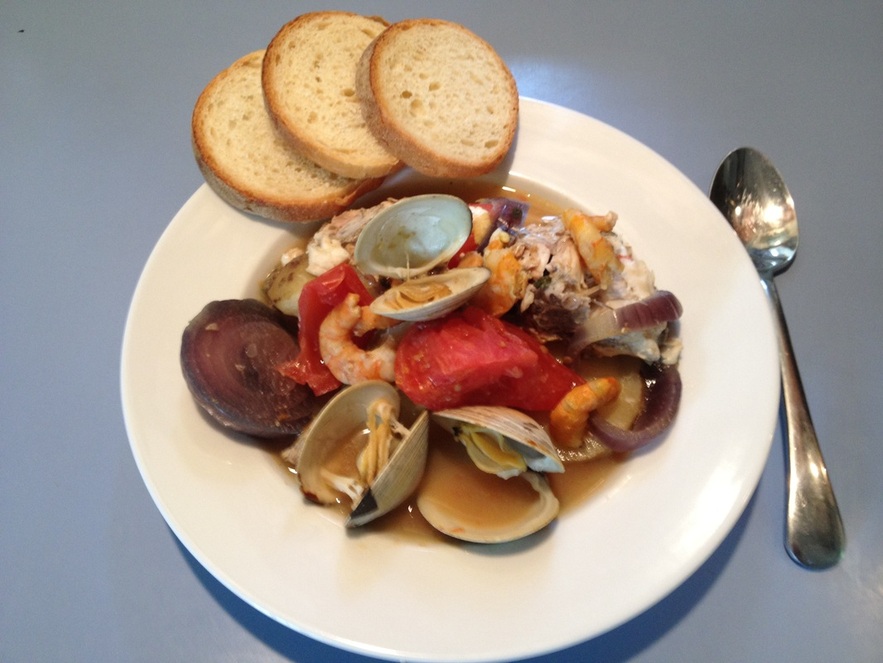 ---