_

Beef Pot Pie is an old time favorite that belongs to my Irish side. When I think towards those winter dinners that seemed so embracing, the storehouse of memory directs me immediately to pot pies.

A pot pie might be based on beef.

It might be based on chicken.The pie crust may be made from a crispy flake pastry or from

Bisquick

, or, in the case of a shepherd's pie, with a dense layer of mashed potatoes.A pot pie was a sublime combination of primal meats and sweet vegetables bound together in a silky liquid that united the contents and all topped with mood softening carb of flour or potato.Now, the real pot pies that my mother made were certainly incomparable.But there was another pot pie that, as a child, I really wanted.It was the pot pie that I saw on TV.

It came frozen.The picture on the package cover showed a broken slice, rich with pieces of beef or chicken and rolling with sauce and cascading vegetables.It was in an aluminum pan.

And, like the TV dinners, I begged my father to buy, you could eat it on your TV tray while watching the evening's episode of

"Spin and Marty"

on the Mickey Mouse Club.

There was one problem, however, a problem that even as a child I recognized but would not have acknowledged. There was no beef.There was no chicken.There were no cascading vegetables. There was nothing in them but a gooey yellow sauce.

And, then, there was still another realm of the beef pot pie:

Horn and Hardarts.

Does anyone remember putting the coin in the machine, opening the brass door, and releasing your individual pot pie? It was housed in a thick brown or deep green ceramic bowl.

The fragrance of the potpie was the perfume the enrobed every Horn and Hardart Automat and invaded your nose and enveloped your body the moment you walked into the restaurant.It clung to you and stayed with you even on the subway ride home.

_ Pot pies are easy, but they are not quick.They are, after all, a combination of several processes from creating the basic stew contents to preparing the potato or pastry crust. And then, the combined elements need to back into the oven.While a pot pie may take time, it is a perfect winter delight. Get it all together on a day when you have time and then do the final assembly when you are ready to serve it.
A note on the pastry crust on this recipe.When I was putting this together, I thought I would try a store bought crust to make the process a bit more accommodating.While looking for a good frozen pastry crust, I noticed the Greek filo.I thought that the filo might make a very interesting and light variation on more traditional flake pastries. The result got mixed responses. While the filo is lighter and is not greasy or oily, it has something of a tougher texture.So, you may prefer using a regular flake pastry dough. Frankly, the best pastry dough is made with lard.But that word is a horror to most folks these days.


Bisquick crust

Then too, you may want to use a simple

Bisquick

batter over the top of the stew.Bisquick works very well and is a great family pleasure. I think it may be my favorite. For Bisquick see the recipe for

Chicken Pot Pie.

In any event, the crust can be made in any number of ways.You don't have to follow what I used here.

---
What you need

Getting started: the mise-en-place

Mise en place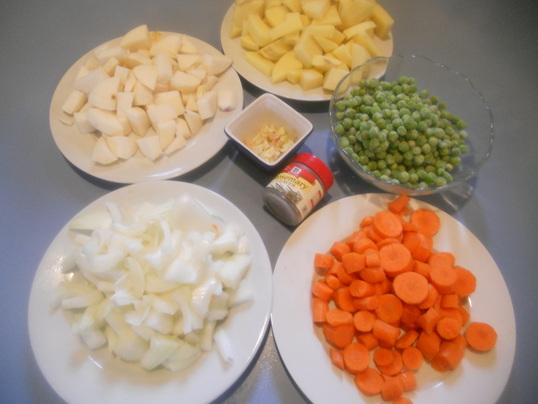 Along with the meat, these are the elements you should have together.
Peas.
Cubed
potatoes.
turnips.
onions.
carrots.
and any other winter vegetable.


---
Crust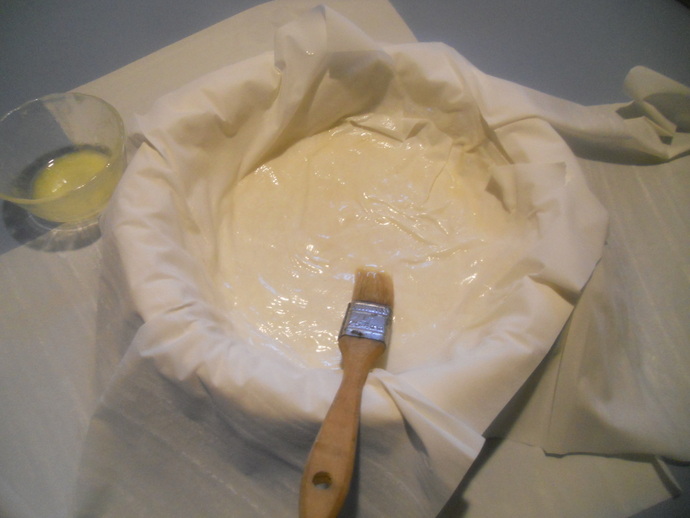 Have the crust ready.
In this version I am using thin filo pastry. Each layer is coated with brushes of melted butter.
You might also like to use a traditional flake pastry: your own or frozen.
If you are using Bisquick, there is no base in the pie plate. Bisquick is poured only on the top.
Set the pastry to the side and have it ready for when the stew is cooked.

---
Cooking the stew

Vegetables



Add all the vegetables.
Salt and pepper.
Add just enough water to reach the vegetables.
Add a tablespoon of flour.
Bring to a boil.
Cover and put the kettle in the oven at 350 for about 40 minutes.


---

The Pie


Take the kettle from the oven. Check for salt and pepper.
Ladle the stew into the prepared pie.



---
Crust


Cover the top of the pie with the pastry. In the case, with filo, I am folding over the layers.

If you are using

Bisquick

, lay out the dollops on the top.

---

Bake


Bake at 400 degrees for about 40 minutes.
Let it sit for about 15 minutes before serving.


---



Plate and serve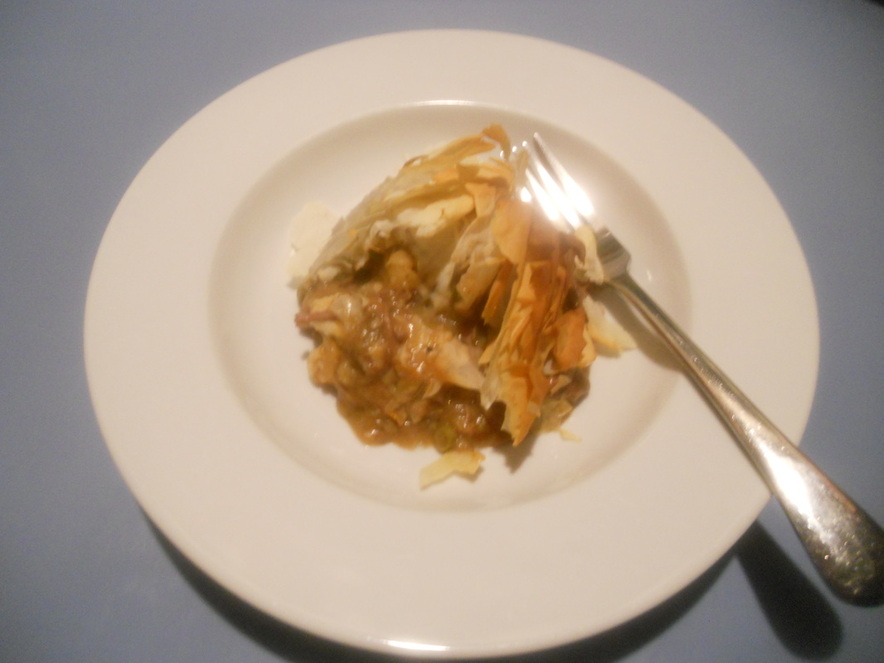 ---