Sweet potato, apple, onion and carrot soup.
Autumn, Fall: a chill in the air. It's mid November. Time for flannel jackets. Time to rake the leaves. Time for soups. Thanksgiving, the last of the
days for farm fresh produce. At the farmer's market, apples and sweet potatoes. Celery is still around and so are carrots, although they are perhaps not from a local farm. Even so, they can be useful. Then too, Autumn, like Winter, needs foods warmed by those fragrant spices like cinnamon and nutmeg. It seemed that there was only one thing to do: put all these things together. So, here is a rich and fragrant fall soup, perfect for Thanksgiving or for a weekend lunch.
_______________________________________________________________________________________________________________________
What you need.

Equipment
Large soup pot.
Immersion blender or other blender.
Ingredients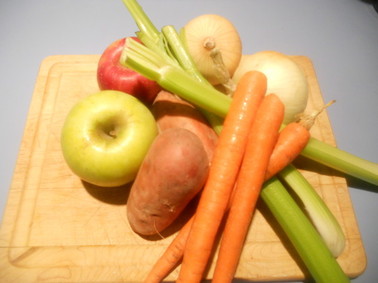 Chicken stock: at least three cups. (You can leave this out for a vegetarian soup.
Just substitute with water. But, with water I would add an extra onion or some leeks to the base.)
Sweet potatoes (or yams) : two large, cubed.
Onions: two large or three medium sweet onions, sliced.
Carrots: three or four large carrots diced.
Celery: about four full stalks, chopped.
Apples: two of a tart variety, peeled, cored and chopped.
Apple cider: one cup (optional).
Cinnamon.
Nutmeg.
Salt. Pepper.
Olive oil.


---
Getting Started
The Mise en place: setting out everything you need before you begin to cook. This is an essential procedure for all recipes.
___________________________________________________________________

The soup pot.

Drizzle in some oil to cover the bottom and add the onions, then the carrots and the celery.
Sautee the onions and carrots and celery until the onions become translucent.
Do not let them brown.
When the onions are clear, add the chicken stock (or water for vegetarian.)
Add the apple cider.
When the stock and cider come to a boil add the cubed sweet potatoes and the cubed apples.
Let this simmer for about forty minutes to an hour.


Finishing - the velouté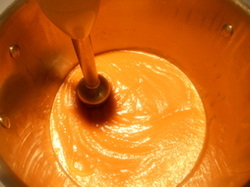 Use an immersion blender to puree the soup.
Add salt, pepper, cinnamon and nutmeg.


---
Plate and Serve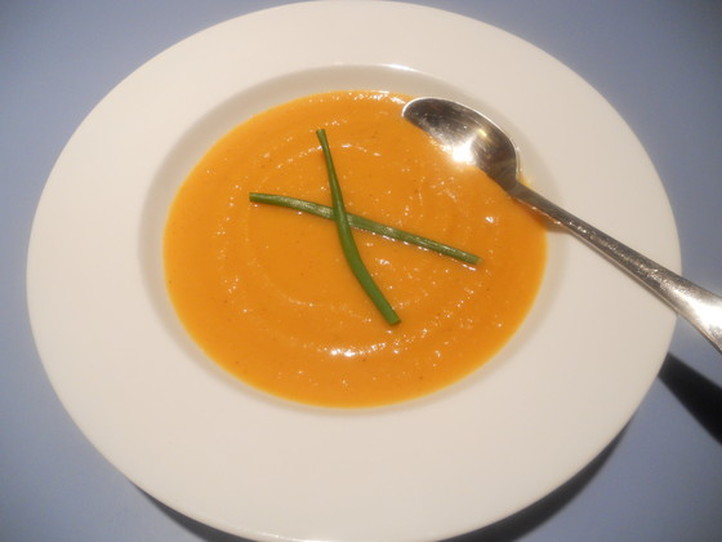 Garnish with fresh dill
---