Monk Fish Nuggets have nothing to do with my memories of the Italian American kitchen. I don't recall the anyone ever even heard of monk fish. I began using monk fish when I had my own children in the 80's. Getting children (and some adults) to eat fish can sometimes be difficult. But as much as I may be hesitant to recognize the influence of the fast food chain industry, I have to admit that they have found a way to market fish Their marketing expertise showed them that they could sell fish by dressing it up in bread crumbs and submitting it to a vat of fat: the fry.
Actually, the British have known this for some time.
In England, fried fish is a staple. Who hasn't heard of English "Fish and Chips." In Italy, such dishes as fried squid, calamari, are the most sublime delight. So, looking at the American fast food folks and at the British success with their version, and with a nod to Italian fried calamari, it seems that the most effective way of selling fish to your own family is to fry it.
Grease, grease, grease - the American culinary medium.
OK, but really, as bad as fried foods may be, who doesn't like their warm, sweet, crispy taste? Of course, the other side of fried foods is that we love to intensify the flavor of the grease nd coated crust with either salt or sugar.
In England they add vinegar. In America we load on the ketchup (and what
is ketchup but the perfect blend of sugar and salt?)

But, please, do not use ketchup with monkfish! If you insist on ketchup just go and buy frozen fish sticks. Monkfish is a wonderful fish for non-fish eaters. Rich, meaty and substantial it's sometimes called "the poor man's lobster." It has no fishy taste at all.
So back to the point: serving fish to children. Most children will reject fish that is prepared as itself. They won't touch fish that is broiled or baked.
For children,(and for many adults) fish prepared in those methods has no substance.Their taste wants something with more solidity and texture.
And, if you use honey or garlic dipping sauces suggested here, it's also
fun for them. Yes, this is fried food which is not the best. But, on the other hand, this is fish that otherwise children would not eat.
It would seem to me that if you use this recipe only from time to time, the grease factor would be minimal, especially when considered with the benefits of eating fish. On a more progressive note, if you can get your children to eat fish this way it may open the door to eating fish prepared in other methods.



What You Need
Equipment
Fryolator or deep skillet suitable for frying.
Three bowls or platters for the breading.
A cup to whip the eggs.
Waxed paper on a large dish or tray to hold the breaded fish cubes.
Paper towels on a large dish or tray to hold the cubes after frying.




Ingredients

Monk fish filet: the amount according to the number of people and the size of the filets.
Two eggs: for the wash.
Milk: half cup for the wash.
Bread crumbs: one cup.
Flour: one cup.
Vegetable oil: according to whether you have a fryolator or a pan.
Optional dressings.
Honey: if you really want to get the kids to eat the fish set out some
honey in dipping bowls.
Garlic mayonnaise: for something a bit more refined try the garlic
mayonnaise that follows. Actually, some kids will like this dressing just as well.
(Ketchup: please do not subject the delicate taste of monk fish to the
overwhelming domination of ketchup.)



---
Getting Started
Mise en place.
Be sure to have all your plates and trays ready: the waxed papered tray before frying and the paper towel tray after frying.
Set out the three bowls for the wash.



The monk fish
The Monk fish is already in filets. All you need to do is to
cut it into nice sized cubes, about one inch squares.
Set aside.

Breading the fish


Three bowls: set out the bowls or platters with the
following:
Bowl one: Eggs : whip two eggs in a bowl and whisk in the cup of milk.
Bowl two: add the flour to this bowl.

Bowl three: add the bread crumbs to this bowl.



---
Dredging

Dredge the fish cubes in the
flour.
Then, dredge the cubes in the egg/milk wash.
Finally dredge the cubes in the bread crumbs. Set the cubes on the waxed paper.



---

Frying

Let the fish cubes sit for a few minutes while you heat the oil.
Test the oil for proper heat by dropping in a few bread crumbs.
If they sizzle and bubbles form around them, the oil is ready.
Fry the cubes, a few at a time.
They only take a few minutes and are done when the crust has browned.



---
Serve (here with potatoes and Swiss chard - garlic mayonnaise)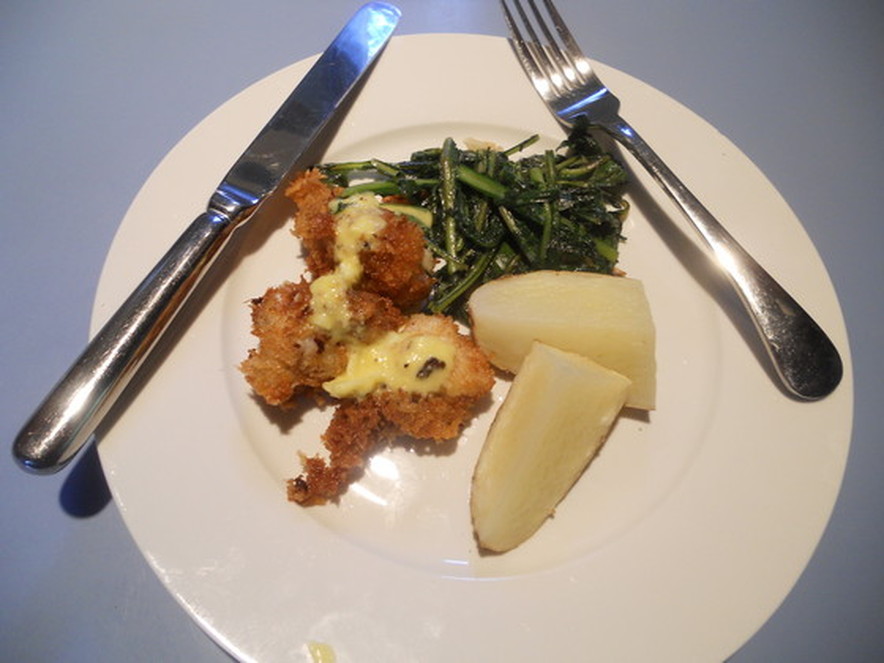 ---