Scafata is a bean dish made with fava beans, Swiss chard and onion. Bean dishes are staples of traditional Italian kitchens. As a child I remember a version of this dish made with lima beans, onions and tomatoes. It was rich and very satisfying. But we never called it "scafata." It was just "lima beans and tomatoes." Still, I thought it was a recipe good enough to record and to share with others. Furthermore, it was a good vegetarian dish. So in my quest to recreate it, I did my online search.
After days of googling "lima beans and tomatoes" on American and Italian sites I found numerous versions of this dish including Indian recipes lima beans and tomato curry. But the most important find was the Italian name for this dish, "scafata." Finding this term gave new direction to my search. The first thing I tried to discover was the meaning of the word itself. I have never heard the word before. A review of online Italian dictionaries and even Italian sites that include etymology, yielded were no results. The closest I came to finding a meaning were several chat sites that all seemed to suggest that the word means "clever." So, perhaps the name referred to a clever use of simple ingredients. Then too, the name may come from a word in peasant dialect which means something entirely different.
Nonetheless, with the word "scafata," guiding my research, I discovered numerous versions of this dish with quite a variety of vegetables in the ingredients. The most significant difference from what I remembered from childhood and the Italian recipes was the kind of bean. All of the Italian recipes called for fava beans. Now, fava beans, while you can find them now in any good farmer's market, were not something I ever remembering seeing as a child. So, my guess is that lima beans became a close substitute. This guess is substantiated by no small number of American sites for scafata where the substitution of limas for favas is specifically suggested.
Whether you use the original Italian fava beans or the American substitute of lima beans, there is one thing common to both: the beans are the center of the recipe.



After that, the variations of additional vegetables are countless. In developing this recipe I tried to find sources that seemed to be the most fundamental. From what I read, scafata was an early Spring peasant stew made from the first greens in the field, sweetened with pork preserved from winter and a small bit of broth. Nearly all the recipes called for a finish of Swiss chard. All used some form of onion. And many called for fennel. Some used new spring artichokes, an interesting addition but not available at the time of this writing. There are also recipes that call for tomatoes. But as I thought on the inclusion of tomatoes, I wondered if tomatoes were a later addition made possible by canned tomatoes and, especially in this country by the Italian American tendency to add tomatoes to just about everything. Sure, tomatoes are terrific. But do they have to be in everything Italian? For my version, I thought I'd leave the tomatoes out.
The final question on this recipe is how to treat the fava beans. Site after site, particularly on American sites, the recipes say that after you shell the favas, you must then boil them to soften the outer hull of the bean. Once the hull is softened it should be removed to reveal the bright green kernel in the center. Well, as I thought on that process two things occurred to me. First, who needs another step in preparing these beans? Shelling them from the pod takes long enough. But to have to boil them and then peel off the outer hull? Who has the time? The second thing that crossed my mind was the practicality of this step and its wastefulness. I could not see an Italian peasant tearing away half of the bean that was the center of the dish. It would be a waste of time and a waste of nutrition and fiber. The fava beans in this recipe are whole. This recipe also offers a variation for vegetarians. While I use a base of pancetta and a final finish of chicken stock, neither of these elements are required. A scafata can been completely meatless and still very satisfying. Scafata is a good lunch served with pieces of hearty bread or served with a main course. Look at The Food Table's page on fried porgies as a main course.


What you need

Getting it together - La Mise-en-place
Have all your elements prepared before you begin to cook.


Everything together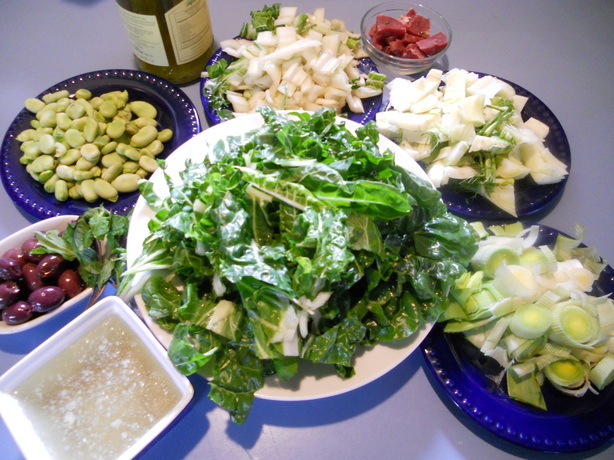 All your ingredients are now ready for cooking.
You should have:
The fava beans ( or lima beans)
The Swiss chard stems
Swiss chard leaves
Leeks, or onions
Olives
Mint
(optional for meat base)
Pancetta
Chicken stock

---
Cooking

Pancetta (optional)


Add olive oil to a wok or other large pan.
Add pancetta and sauter until the fats begin to render and the pancetta just starts to brown.
If you are vegetarian, skip this step.


---

Leeks, Fennel, Swiss chard stems


Add the leeks (or onions) Swiss chard stems, fennel and beans.
Sauter them in the oil until the onions begin to glow clearly and take on a very light brown around the edges.
(Do not add the greens yet.)


---
Chicken stock (optional)


When the greens have all wilted, add about half a cup of chicken stock..
Of course, if you want no meat, this is optional.


---

Swiss chard - greens


Once everything else is fully reduce you can add the Swiss chard greens. the greens reduce almost immediately. They're done when they reach the texture you prefer. I like them still very green. Others may prefer them completely dissolved.


---
Plate and serve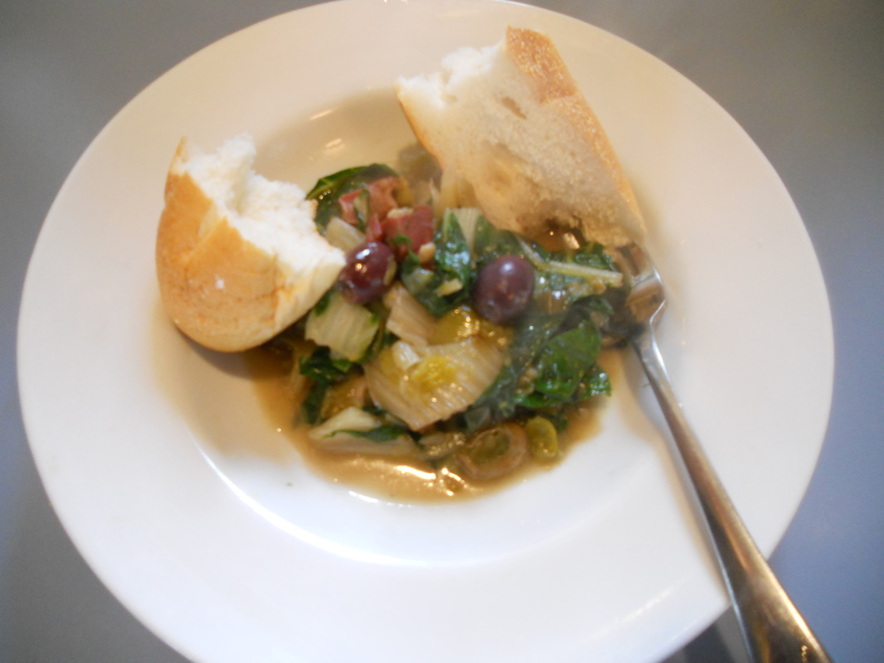 Serve with hearty bread or as a side with other dishes.
See The Food Table : Porgies.

---