I suppose this penne with Swiss chard and Romano beans is something of a variation on "

pasta e faggioli,

" or "pasta and beans that most American know as "pasta fazool." But for this version I have added greens and instead of a tomato "gravy" I'm using canned San Marzano tomatoes that have been minimally cooked. Pasta with beans also shows up in a dish called "pasta e cecci" or, as follks really said it " pastacheech." That dish used shell shaped pasta, gravy and cecci beans. When I was a kid, we didn't like the cecci beans: too dry. My mother substituted peas. This was also one of the only dishes that was actually called "pasta:" a term I never heard until I went to Italy in the late sixties.

But let me turn back to the traditional dish of pasta and beans. Funny thing is the name of this dish. The correct Italian is "pasta e faggioli," but most

Americans know it as "pasta fazool." Say "pasta fazool" in Italy and

very few will know what your mean. "Pasta fazool" came about from second generation Italian American children who didn't speak a word of the language. "Pasta fazool" is what they thought they heard.

The error in hearing was compounded and by the Dean Martin song "That's Amore," where some of the lyrics are:
When the stars make you drool
Joost- a like pasta fazool]
That's amore.
And so the name "pastafazool" stuck. II should note, however, that the old term is gradually being replaced by its correct pronunciation. Oh, something I almost forgot. The pasta for "pasta e fagiolli" is the small ditalini, a variety of pasta that turns "pastafazool" closer to the soup side.

So this version is not the traditional recipe which is often more like a soupe or that uses the old time "gravy." But this pasta and beans does have merits of its own. Take a look at the simple ingredients. The ease of this dish is topped only by the sweet taste of the tomatoes that comes from the short cooking. This is also a completely satisfying and yet meat free preparation.
What you need.
Equipment
Large pot for boiling the pasta.
Saucepan for the tomatoes and Swiss chard. (I prefer a good size wok.)
A spider.
A wooden spoon.
Chopping knife.
Cheese grater.



Ingredients

Package of penne (or rotini).

Can of

Cento

San Marzano tomatoes

(whole).

Hand of Swiss chard.

Small can of Romano beans.

Garlic.

Pecorino Romano or Parmesan

cheese.

Olive oil.

Salt, Pepper.

Red pepper flakes (optional to taste).

Dried basil

---
Getting things ready : The Mise en place
Have all your ingredients prepared.
Set a pot of water to boil. Salt the water well. (Do not put oil in pasta water.)
Heat the oil in the wok or sauce pan.
Swiss chard

When the tomatoes have begun to simmer, add the Swiss chard.

By this time the water should be boiling.
Add the pasta to the water.
Don't overcook.

---

Beans

Add the Romano beans. Take a ladle or two of the pasta water and add it to the tomatoes and Swiss chard.
Taste for salt and pepper.
Add hot pepper flakes if you like.

---
Plate and serve with the grated cheese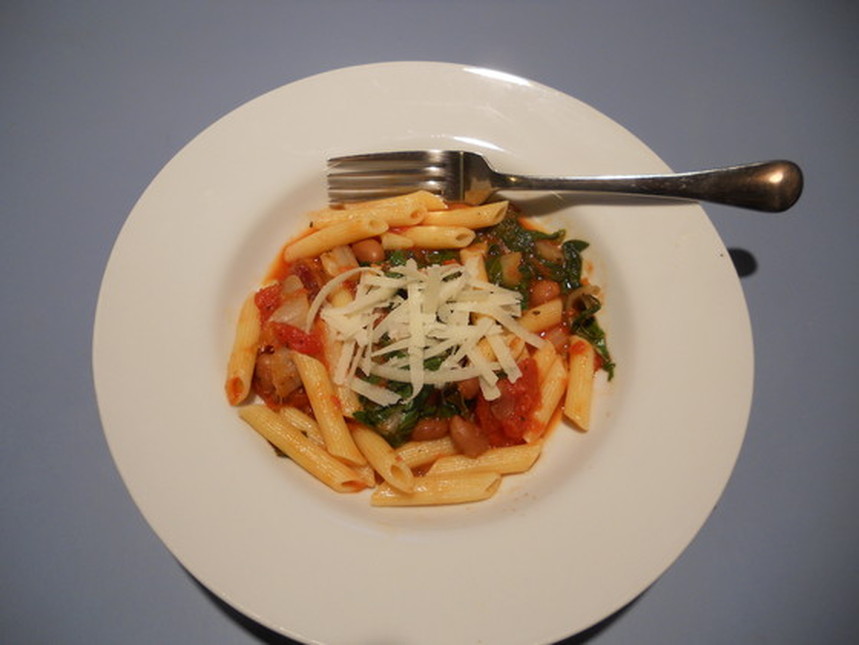 ---