This recipe is an attempt to align of my favorite cookie recipes: chocolate chip cookies and oatmeal cookies. Now, would it be America without chocolate chip cookies? As a national favorite, apple pie doesn't even come close. Who doesn't like them, especially warm from the oven while the chips still ooze and the fragrance of chocolate fills the room? The only question on chocolate chip cookies is whether you prefer them chewy or crispy. I grew up on my mother's chocolate chips which are still the most exquisitely crisp yet full chocolate chips I have ever had.My mother uses no mixer and insists that their success is because the dough is beaten by hand with careful incorporation of the ingredients. I followed her recipe precisely. I've beaten by hand with a wooden spoon just as she does. But I have never succeeded in recreating them.
In a very similar way there is the secret of my mother's oatmeal cookies. Like her chocolate chip cookies they are hand mixed with a wooden spoon. The finished cookie has a rich center and crispy outside. There is a taste of cinnamon and something somewhat salty in the finish. Here again I could never imitate.



So in the face of my failure, I decided to set out on my own to discover as best I could how to create at least something similar. What I found was that it seems that as you increase the amount of brown sugar and butter, you move towards the crispy side. But there is a danger, go too far in that direction and you end up with something like lace cookies that melt flat on the baking tray. Go to the other side with more white sugar, less butter for the amount of flour and you have very puffy cake like cookies.While the mix of butter, flour and sugars that I settled on works for either chocolate chip cookies and for oatmeal cookies, it struck me that it might be a good idea to merge the two. So, what I set out here is a recipe for oatmeal cookies with chocolate chips.The finished cookie tends towards a crispy exterior with a slightly softer interior.
A note on the ingredients.The oats need to be "old fashioned" oats, not the little instant flakes.The chocolate chips are best when they are a minimum of 60% cocoa, not the little chocolate wax chips.If you want to go even further, you may also want to add some coconut and even a few raisins and nuts. It is also very important to heat the oven to 375 (not just 350) and to bake only one tray at a time.


What you need

Equipment
Mixer (or not, if mixing by hand).
Two baking trays.
Ice cream scooper.
Spatula.
Cooling rack.


Ingredients


Butter, 2sticks.
Egg, 1
White sugar, 1 cup.
Brown sugar, 1/2 cup.
Flour, 1 1/2 cups.
Salt, 1/2 teaspoon.
Baking powder, 1/2 teaspoon.
Baking soda, 3/4 teaspoon.
Cinnamon, 1 1/2 teaspoon.
Nutmeg, 1/4 teaspoon.
(Chili powder, small dash optional
Oats, 2 cups
Chocolate chips, one package. (60% cocoa).
(coconut, raisin, nuts - optional)


---
Flour, salt,baking soda and powder


Put the salt baking soda and powder into the flour and stir it up.
Add the flour mix to the batter.
Mix only until blended.


---

Oatmeal, chocolate chips, spices


Add oatmeal and chocolate chips.
Add the cinnamon and nutmeg ( optional chili powder).
Mix lightly until blended.

Add options such as coconut, raisins or nuts.


---
Ready with milk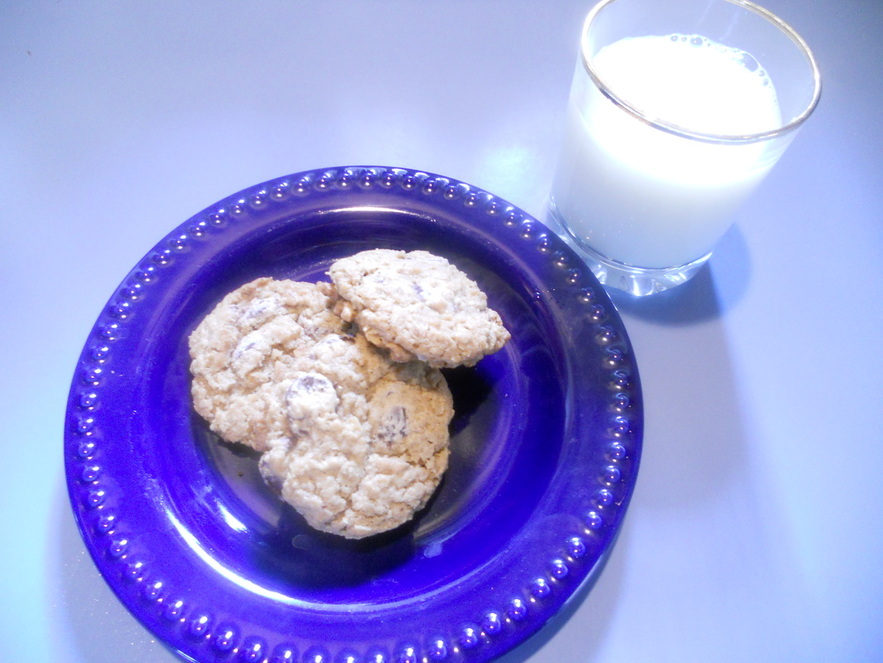 ---