Pork curry with pineapple certainly has nothing to do with the Italian American kitchen. I developed this recipe from my experiences in Asian restaurants around 9th and Washington in Philadelphia. 9th and Washington was originally the home of Italian immigrants. As a child this was the street where I first saw food in its pure form: live chickens, live lambs, fresh fruits and vegetables. After the South East Asian wars of the 60's and 70's, 9th and Washington saw the arrival of a new family of people. The area is now home to a new and vibrant Asian community. 9th and Washington now has a good representation of Asian restaurants. these restaurants are those take out joints that seem to have food that comes from a can or a box. These restaurants are Asian restaurants where you find Asians at the tables. Other parts of the city have also benefited from a new Asian community. Central Philadelphia is a good place to sample Chinese (mostly Cantonese). South Philadelphia is a good place to try for Vietnamese and to explore no less than three large Asian grocery stores along Washington Avenue. North Philadelphia along Broad Street and the Market Street end of West Philadelphia have a good selection of Korean establishments, including the Korean chain grocery store,

H-Mart.

In the cuisines of these countries, pork is a major player. They have more ways to use pork that can be imagined. Now, I also have a taste for curries. Curries are truly an Indian creation. But, In India, except for areas influenced by Europeans, pork is rare. So, can we have an Indian curry with European pork? To makie an attempt at joining these two tradition I applied Indian chicken curry to Asian pork.

I have a particular fondness of pork curry or chicken curry. Of course, what I don't know is how authentic are the dishes I enjoy. Are the dishes prepared in metropolitan restaurants truly the local version as done in Asia or are they adjusted to appeal to the American fast food taste for salt and sugar? I really have no way of knowing. To answer my question to at least some extent I try to get personal testimonies. When I am in Asian grocery stores, I always ask the person next to me how to use the ingredient at hand. I also research as best I can every cook book and Google entry to compare and contrast. Even with all the research, it is very difficult to tell. I suppose that in the end, whether authentic of not, the question is: is this a good recipe? Does it taste good?

The recipe on this page is something of a combination. This is an easy recipe for a pork ( or chicken) pineapple curry. It is the tying together of various pork curry recipes that I have heard in person and have researched in books and online with the strongest influence from Thai and Indian cuisine.

.Of course, the more I explore, the more I realize that there are as many curries as there are kitchens in all of Asia. It would seem that, like this curry, most curry recipes are home inventions based on what you have available. The one thing that they all seem to have in common is the use of multiple fragrant and piquant spices. But, even with the spices there is an enormous range of possibilities. If you have access to an Indian grocery store you will be astounded by the variety of spices and even more confounded by the possibilities of their use. For this recipe, to keep it simple, I used a prepared commercial Thai curry powder that I augmented with a few additional spices that should be easily accessible anywhere.
Heat.
Heat is the big question for curries. How hot do you want it? Personally, I like a little heat to blend with the other flavors,but not so hot that all else is obscured. The entire dish, in the Thai fashion, should be an interplay of hot, sweet and sour.If you use the spices in this recipe you need to be careful. Most curries call for the spices to be heated in advance. When you heat them, they give off a very strong, strangulating gas. Be sure to have windowns opened and to have more than plentiful ventilation.
Rice.
The rice that suits this dish is another "up to you." A good Asian sticky rice will have a very distinct texture for curries, one that is particularly good with chicken. For pork, however, a somewhat tighter meat, I prefer a rice such as jasmine. I find it has a bit more substance. Of course, if you want to go to a very toothy rice with the pork, try a good Basmati.
Buying the ingredients.
In my area there is easy access to Asian and Indian groceries. If you have an H-Mart in your vicinity, you couldn't do much better. Make inquiries. Go online. With any luck you'll find a good Asian market. Failing that, you can always try the "Ethnic" aisle of your local grocery store. Big brand commercial products are not always the best and are usually loaded with corn syrup and additives. But, they're better than nothing.


What you need
Equipment
A good steel wok.
A Japanese/Chinese cleaver, or good sharp knife.
Wooden spoon.



Ingredients

Peanut Oil: about 1/4 cup. (or other light oil.)
Pork: about a pound. In this version I used two boneless sirloin chops. But any piece of pork that can be cubed is fine. ( One piece I would not use is tenderloin. It's generally tasteless.) (You can also easily substitute chicken.)
Pineapple: a half will do.
Green Papaya: a half large or a small.( optional) the green papaya adds a bit of the sour taste that works with the sweet of the pineapple.
Green Onions/ Scallions: about six.
Garlic: about five or six cloves.
Chili Peppers: in this version I use three small Vietnamese green peppers. You can use whatever you like or none at all.
Asian/Indian items
Curry Powder: In this recipe I used Thai Curry Powder for the sake of an easy to find item. If you can make your own curry powder, all the better.
amarind Paste: a semi liquid made from tamarind pods. It adds a slightly sour taste.
Palm Sugar: something like pasty brown sugar. If you can't find it, brown sugar will do.
Fresh Ginger: about half of a finger. The fresh ginger gives a bit of heat, something that dry ginger doesn't do.
----------------------
Cinnamon
Cloves
Salt
Water: one cup.



---
Getting started: the mise-en-place
As always, the most important process in cooking is to have all your ingredients ready.
Garlic and chili and cloves

Garlic: chop. Set aside.
Chilies: slice the chilies, open them and remove the seeds ( The seeds contain most of the burning heat. If you want this, leave them in.) Set aside.
Cloves: crush about four or five cloves. Set aside.

---

Ginger

Ginger: scrape off the brown skin and chop up the ginger. Set aside.



---
Rice
Start with your rice.
Set a pot of about 1 1/2 cups of water to boil.
When the water is boiling rapidly add 2 1/2 to 3 cups of rice.
Stir the rice in the boiling water to be sure that the grains do not lump.
Let the rice boil for about five minutes.
Turn off the heat.
Cover the pot.
Let the rice absorb the water while you are preparing the curry.



The curry spices

Heat the 1/4 cup of oil in the wok.
Spices
Open your kitchen windows! ( Yes, you really will need to do this - even in winter.)
The Spices: The spices need to be heated before all else.

Add the Curry powder, the crushed cloves and the cinnamon to the hot oil. ( Add any other of your own spices.)
As the spices heat they will give off a very strong, almost choking fragrance. Be sure the windows are open.



---
---

Pork (or chicken)

Add the pork ( or chicken). Stir to coat the pork with the spices. Be sure to scrape the wok bottom with the wooden spoon to release all the spices.
Salt lightly.
Stir for about five minutes.



---

Greens

Add the garlic, onions, ginger and chilies
Stir to coat the greens. Stir another five minutes.



---
Pastes

The Pastes Palm Sugar: add about two good tablespoons. ( I find it easier to work with Palm Sugar by microwaving the container for about 20 seconds.)
Tamarind Paste : add about two tablespoons.
Stir the palm sugar and tamarind paste into the pork and greens for another two or three minutes.



---

Fruits and coconut milk

Fruits
Add the cubed pineapple and the cubed green papaya.
Stir for another five minutes.
Salt again lightly.
Simmer
Let the pork and fruits simmer for about 15 minutes.

Add the coconut milk.


---

Check for taste

Now, you cannot diminish any heat that you already have, but you can increase it with various chili sauces or powders. Again, I would not go too far. The beauty of this dish is its balance.



---
Serve
By now rice should be ready. Plate and serve.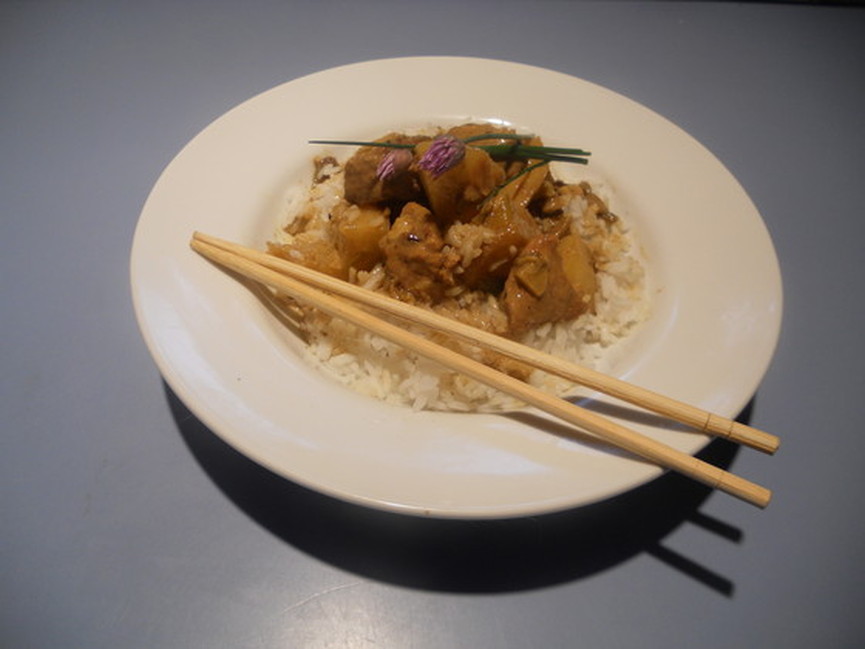 ---