Beans three ways takes me back to my childhood in the Italian American Kitchen. In the old days, Friday was without question, a day where there was no meat in any meal, breakfast, lunch or dinner. The calendar on the pantry wall, noted each Friday with the image of a fish.
In my childhood to eat meat on a Friday was nothing less than a mortal sin and a matter of confession on Saturday. A bit of online research suggests that the gravity of meat eating varies from time to time and theologian to theologian. It seems that hair splitters even measured the gravity if sin according to the quantity of meat digested. According to some sources, the origin of prohibition of eating flesh meats goes back to the earliest Christian traditions. It would seem that to consume flesh and blood on the day that Jesus was crucified was something of an affront of his death. Other sources suggest any number of other origins.Whatever the historical foundations, for American Catholics, Friday meant no meat.This restriction prompted any number of compensating recipes from Friday pancake dinners to Mrs.Paul's fish sticks to very traditional Italian American fare such as pasta fazool (pasta e fagioli)usually made with ditalini and cannellini beans, or pasta cheech (pasta e cecci) ,made with shells and chick peas.We never liked the dried chick peas so my mother substituted green peas. But there were also other Friday bean dishes, sometimes served as sides to the fish sticks.


For ease of presentation I have put three of these bean dishes together here. Two recipes require string beans and the third takes Lima beans. In winter you can use frozen beans. For my recipe today, I was lucky to find fresh string beans at this morning's Farmers' Market. They also had beautiful sweet onions and fresh potatoes.


The lima beans I use are frozen. On this page the crushed tomatoes are cooked to the dish. Traditionally, the sauce would have been a left over and ready to go from a previous marinara.
Of course, no one observes meatless Friday anymore. But these recipes for bean dishes go well beyond Friday. My girls loved them as sides with veal or chicken cutlets where they make a perfect match. Beans with tomatoes or potatoes and onions are a rich a satisfying side dish. These recipes highlight the beauty of Italian American cooking where the simplest vegetable is enhanced and enriched by the addition of the simplest ingredients. For ease of description I set out three variations. Normally, there would only be one of these three. What I find curious is that I have never seen these been preparations in any restaurant, either in Italy or in the States. These are recipes that descend from tradition.


What you need

Equipment
Skillet
Pot
Sharp knife



Ingredients


NOTE: these are the ingredients for three different recipes.

Green Beans (for two recipes)

Lima beans (the third recipe)Crushed tomatoes, preferably Cento San MarzanoSweet onionsPotatoesGarlicSalt and PepperA note on San Marzano tomatoes. Not all canned tomatoes with this name are actually from San Marzano in Campania. Cento are. Check the label.

---
The Mise-en-place, getting it all together

Everything together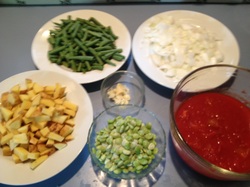 All of the ingredients are now ready.

---
Beans and potatoes


Set the potatoes and beans to boil for about 10 to 15 minutes or until they are tender.
Drain off the water and hold the beans and potatoes to the side.


---

Lima beans


The frozen Lima beans can be done in the microwave in about five minutes.
If you are using frozen green beans, do the same.


---
Limas and tomatoes, green beans and tomatoes, green beans and potatoes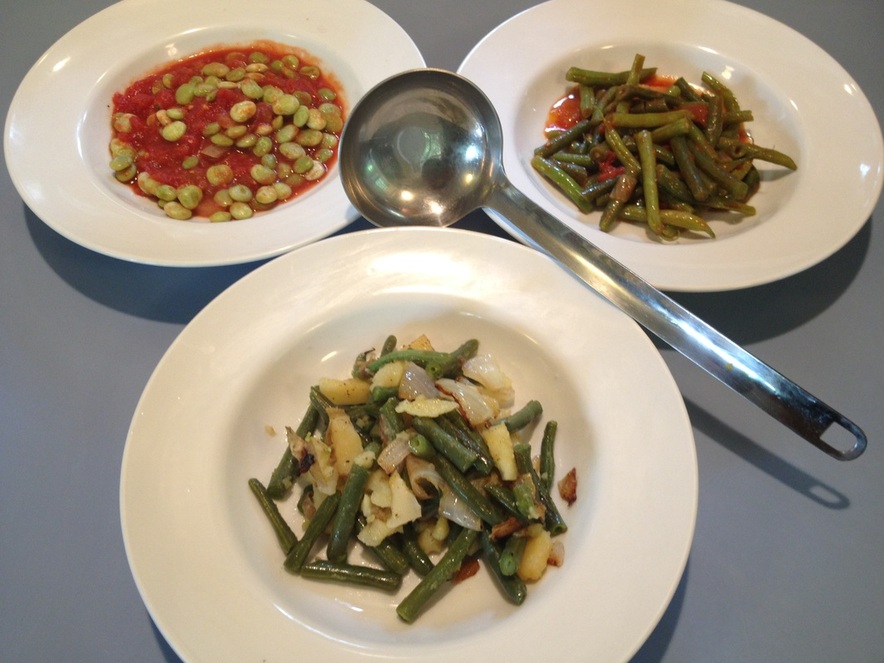 ---