Minestrone is so Italian that its very name can be something of a stereotype. But then, stereotypes don't arise from nothing. When I think of old time soups I see myself in my Aunt Annie's kitchen. I see her from the back. She's at the stove stirring the giant dented aluminum pot with a wooden spoon as big as my head. In the pot was her minestrone. I'm at the table. In front of me is a big white cloth napkin that could serve as a bed spread. To the side the big soup spoon that barely fit into my six year old mouth. Those big spoons were the standard of the time. they must have been the descendants of medieval kitchen ware. (Do such spoons even exist these days?) Then Aunt Annie turned and in her hand was the great bowl trailing stream across the kitchen from the stove to the table. There it was, hot and dense and rich and fragrant and often topped with gratings of Parmigian and a slice of Italian bread. Minestrone!
Let me say something about the word "minestrone" itself. Minestrone.
The sound of the word tells it all. It's a word you can get your mouth around. That broad open "O" vowel sings like an opera aria and resonates in your ears.The Italian language, in many respects,is a far more expressive language than English when it comes to physical description. In Italian, words can be modified by endings that give then greater meaning. The word "minestrone" and its variants are perfect examples. To appreciate this term, let's start at the beginning.The root of the word is "minestra." A minestra is a simple soup with simple ingredients. It starts with a brodo, a broth, and then adds one or two other ingredients. The end result balances broth and additional items. Now, the recipe for a "minestrina" takes us to a
more simplified version. In Italian, the ending "-ina" means small. For a minestrina the only thing that might be added to the "brodo" is just a little bit of pasta, or maybe a few tortellini. But, now to the big guns: "minestrone." In Italian,The ending "-one" means something big. For a minestrone, the original brodo is amplified with not just a handful of pasta, but with just about every vegetable you can get your hands on. A minestrone contains not just pasta, but beans and greens, and carrots and potatoes. In winter's cold, you want the big guns. You want minestrone.
Now, traditional recipes for minestrone would use a pork or chicken or beef stock as the base. But, I think you can also create a very substantial soup with just the vegetables alone. If you have a good variety of them, the flavors and rich and broad, A meatless minestrone can be fully satisfying.


Minestrone is a good winter dish. But in winter what greens are available? I also like to eat local as far as possible. But in this season, eating local? Face it. Not a chance. There is nothing growing. Where do we find our vegetables? During the winter, farmers' markets in the East are closed. So, there is little recourse other than the grocery store. So, which grocery store do you choose? While, I myself use either Trader Joe's or Whole Foods because they claim to provide only organic produce, the definition of organic is not quite clearly defined. Then too, you have to consider, that any vegetables that they sell have been transported from distant areas, and so include with them the carbon footprint of the fuel needed for their transportation. But, we have to eat, don't we? So, what can we do? After all, the only thing in my Pennsylvania garden right now is frozen clay and a few strands of leathery grass that my dogs love to eat and then promptly regurgitate. So, I surrender to the vegetables I can find at the grocery store. Now in this recipe I must confess to a certain heretical inclusion. I used winter root vegetables: turnips and rutabaga. In a pure Italian recipe you would never find them. My grandmother would have said that that's what you feed the pigs.

With the first question settled, I now look for inspiration on what to do with the vegetables? Childhood memories are always a good store of substantial recipes. And so I ask myself, "what did we have in winter?" There were no uncooked greens: certainly no salads. Greens in winter were cooked. We often had green beans sautéed with canned tomatoes, a close cousin was green beans with cubed potatoes and diced onion.On occasion there was broccoli rape,"(broccoli rob). And there was one of my father's favorites, escarole and beans ('scarole 'n beans). But there was still something else. There was the best of them all. Soup! The image and the flavor rushes immediately forward: minestrone!

Yes, even now, more than a half century later I can still see my Aunt Annie.(We called her "Anne Nannie.") I see her from her back, her full body aproned and rotund, as she stood before her row house stove and the kitchen counter in South Philadelphia. I see her ladling the soup into our bowls and carrying them to us at the table.

There is also an option for the macaroni in this recipe. If you have the time you can make your own. The macaroni I would suggest is called either "grattugaita" (grated) or "malfatti" (poorly made). It is a simple flour and water pasta that you shred on the large grooves of a cheese grater.


What you need
Equipment
Cutting board.
Sharp knife.
Large kettle or heavy soup pot.

Ingredients

Olive oil

Small head of cabbage (any kind).

Swiss Chard.

Leeks.

Onions.

Garlic.

Celery.

Turnips.

Carrots.

Potatoes.

Canned tomatoes (whole)

Cento

San Marzano.

Cannelini beans, (one can well rinsed)

Salt, pepper, oregano.

Pasta: soup type such as ditalini.

(pictured above are "perline")

Any other winter vegetables may be added or substituted.

---
Getting started: the mise-en-place - be sure to have all your ingredients prepared and ready before you begin to cook.
Your mise-en-place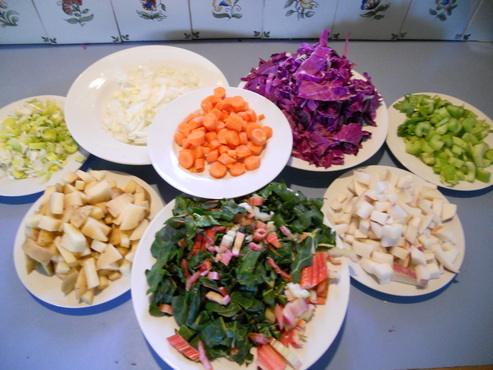 Here are all your ingredients prepared and ready for the pot.
The preparation, the mise-en-place ( meez an plasse) is the most important part of cooking with ease. It's a discipline that must often be acquired, but it's essential.

Remember too, that you may add or delete any number of ingredients.
---
_The Cooking
The water pot.
In a separate pot, boil about one gallon of water.
The soup pot.

Sauter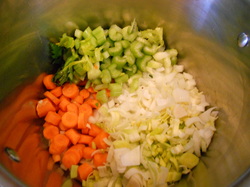 _Cover the bottom of the soup pot with olive oil.
Sauter the onions, leeks, celery and carrots until they start to become somewhat clear. Add the garlic. Keep stirring. Don't let anything brown.
---
Step by step additions
Add the carrots, turnips, Swiss chard and cabbage. Stir for a few more minutes until they are covered by the olive oil. If they are dry, add more oil.
After about fifteen minutes when all the ingredients in the pot have wilted,
add the tomatoes. Crush them roughly by hand.
When the pot gas heated the tomatoes,
add the boiling water.
The soup will fall back. Keep the heat up and keep stirring.
When the water returns to a full boil
add the turnips and potatoes.
The water will lower again.
When it returns stir and then reduce the flame so that the soup is at gentle roll.
Add the canned cannelini beans.
Let the soup simmer from at least 30 minutes, at best an hour.
After an hour, raise the heat so that the soup boils again.
Only at this point should you add the salt, pepper and oregano. (Never add salt to a bean soup until towards the end.)


Pasta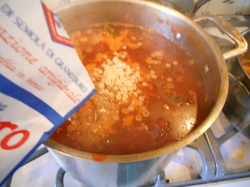 _Add the pasta.
Depending on the size of the pasta, you will need from five to eight minutes.

You may also want to try the grattugiati / malfatti as shown below.
---
______________________________________________________________________________________________________________________________
Homemade Grattugiati / Malfatti
________________________________________________________________________________________
Plate and serve with parmigianno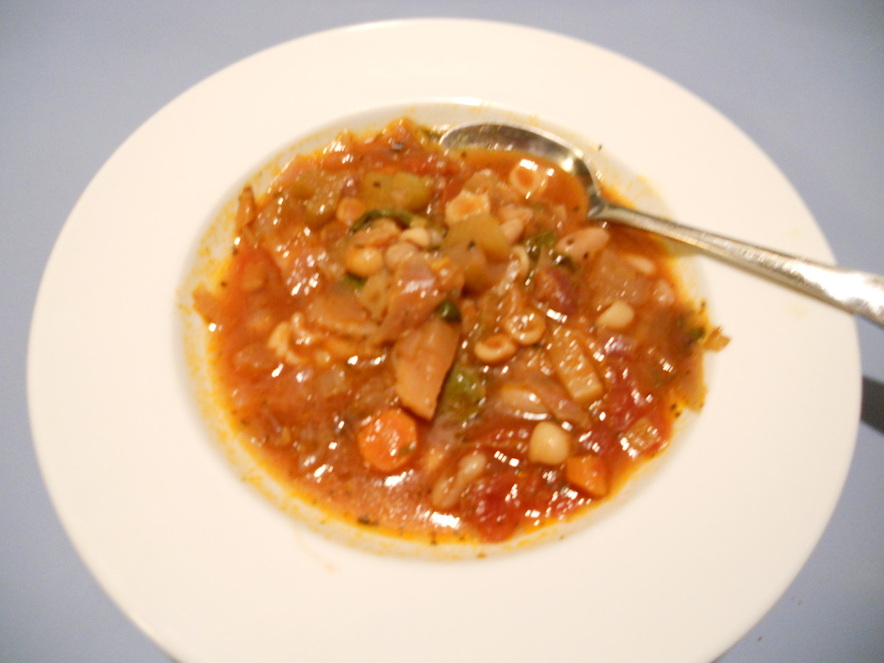 ---