Timbale. A pasta pie with zitti baked macaroni with a different slant.

Timballe. The word alone is a wonder. According to the Italian dictionary, "timbalo" derives from the Arabic "drum," and is related to the modern Italian word "tamburo" (drum). Then too, we have to consider the recipe for a "Timpano." Timpanos are almost identical except that they have a pastry crust to enclose them rather then eggplant. Then, too, there is the Greek version. The bones of any Italian "timballo" or "timpano" resemble exactly a Greek "pastitsio."(

Παστίτσιο

) with its layers of meet, pasta and surrounding crust. Whether Italian or Greek. this is a dish that emerges from the wonderful melding Mediterranean cultures.

In English, an old Oxford dictionary defines a timballo as a dish made of baked fish in a mold. In all cases, rom a point of language to a point of preparation, this is a dish that is a package," a "wrap-up" of baked delights.

The name of this dish and the fundamentals of how it is put together

are nothing short of the wonders that occur when cultures clash and merge. I cannot offer any academic documentation but this dish seems to be a creation of the medieval kitchen. A timbale is a "pie." Not pie

like apple pie, but pie as in "four and twenty blackbirds." So, don't think pie like a sweet dessert pie, but pie like chicken pot pie on steroids. Now, beyond that, take what you know of a pot pie and fly it back to the Middle Ages.

The classic timballo is created inside a "pasta frolla" crust.

If you have seen the film

"Big Night"

with Stanley Tucci, you may recall

the scene when the timballo is presented. If not, you can find the clip on YouTube. The mastery of the crust and its baking is an art in itself.

But, the timballo here is not quite so demanding. Now, as with so many great traditional recipes, Timballo has as many variations as the number of people who make it. The version here is somewhat simplified since it does not have a pastry crust. Instead of pastry, this recipe uses sliced eggplant as the "skin." This method is quite common in many home-style Sicilian and Calabrese recipes. To make your timballo, imagine what the cook or the baker might make of an otherwise simple presentation. Think big. Think of filling that pie with tidbits of all the best things in your kitchen. Of course, best things are not always inexpensive. If you use real mortadella and imported cheeses a timballo can be a bit pricey. Of course, you can leave then out if you prefer something simpler. If you so use the meats and cheeses, plan on small servings per person. With all the meats and cheeses this is a very dense and rich dish. Now, the other little note about a timballo is the type of pasta to be used. If you look online you will see several varieties, including spaghetti. Traditionalists, however, will demand only one kind, zitti.
What you need.
Equipment
Spring form pan (9 inch).
Wok or sauce pan.
Pot for the pasta.
Wooden spoon.
Knife.



Ingredients

Tomatoes fresh in season, otherwise use good (San Marzano) canned tomatoes.
Eggplant.
Eggs - hardboiled.
Onion.
Garlic.
Peas.
Basil.
Olive Oil.
Bread crumbs.
Ground meat: use a mixture of ground pork, beef and veal.
Sausages: according to choice.
The version illustrated here uses chicken with garlic and herbs sausage. But why not add, boar of venison or any other special sausage?
Several hardboiled eggs.
Cheese: according to choice. This version uses fresh mozzarella, soft provolone and parmesan.
Mortadella: a quarter inch thick slice of real mortadella with pistachios because it has a soft texture.
You can also use any other dried sausage such as soprasatta or
salami. Whichever you select, don't have it thin sliced as you would for a sandwhich.You want a good quarter inch piece that you can dice.

Pasta: Imported Zitti






---
Getting started: the Mise-en-place
Prepare all your ingredients in advance.
Preheat the oven to 350.
Tomatoes

Peel and chop fresh tomatoes as described on our page for

summer fresh tomato

sauce or open a can of San Marzano tomatoes.

---
Eggplant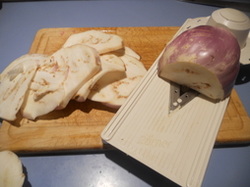 Slice the eggplant on the long side in thin strips. You can use a sharp knife or a mandolin. Fry the eggplant strips until they begin to brown.
(Alternate method: brush the strips with oil and grill.) The eggplant in this illustration are light purple, wide arities. Any other variety will work as well.


---
Prepare the pan

Preparing the "drum."
Brush the spring form pan with olive oil
and sprinkle with bread crumbs. This is just like
buttering and flouring a cake pan.




---

The base

Layer the strips of the eggplant around the spring form pan. This is the frame of the timballo. Set the pan to the side.
In other versions, the surrounding is a pastry crust.






---
_______________________________
Side sauce.
Important: remove about a cup or more of the sauce and set it aside for additional serving on the pasta.
_____________________________________________________________________________
The pasta
While the sauce is simmering prepare the pasta. Boil the water and add the zitti.
Boil the pasta until about a minute or two before it is done.
Remember it will continue to cook when it's baked in the timballo.
______________________________________________________________________________
Preheat the oven to 350.

Meats, Cheeses and Peas

Add the meats, cheeses and pease. (The peas should be thawed.)
You may also add any variations you may like such as olives.
Far older recipes call for chick pease (cecci) which would be more of the Arab style.

---

Add the zitti

Add the zitti and stir into the sauce.
Alternate method.
Layer the zitti in the spring form pan alternating with layers of sauce.

---