Gazpacho
A recipe that requires no cooking. Make it a day in advance. I must admit that I had something of an instinctive aversion to the idea of a cold soup. Even in restaurants I have often sent soup back to be reheated. I know of no soup in the Italian American Kitchen that would not be served steaming hot
To me, hot is an adjective that must accompany any notion of soup. But then, I had something of a revelation or perhaps a conversion when it came to gazpacho.
I have always loved tomatoes right from the vine. Eating the just picked tomatoes in our garden was a morning ritual. Cucumbers in any kind of salad were a great refreshment. And who can resist garlic in anything? Then I had recollections of gazpacho from my student days in Spain.
Somehow all these notions came together in some kind of enlightenment. And, I figured, "Why not?" So here is my gazpacho.
Now, about the ingredients. As with so many other fundamental recipes, there is really no single method for gazpacho. In Spain it changes from region to region. And, I would assume that within each region it changes from house to house.
Peppers is one of the items that seem to differ. Personally, I'm not found of green bell peppers. I think they have a harsh taste. As I undertsand it, green peppers are in the unripened stage. Red, yellow or orange bell peppers, on the other hand, are fully ripened and are much more subtle.


So in my version I keep the red and yellow bell peppers, but for the green bells I shave
substituted poblanos. But I think you might also try sweet Italian green or yellow peppers. Traditional recipes also call for white wine vinegar.
I use rice vinegar. I think it has something more complex.
I must also note that most of the Spanish recipes I found online using
Google Spain (google.es) use bread as a thickener. I don't. I find that
without bread the gazpacho is a bit lighter and more refreshing. What I have done is to serve the gazpacho with sides of oil fried bread rubbed with garlic. There are also a few other variations you may wish to consider. Add bottle clam juice to give a very sea quality. Add or not, any number
of hot chili peppers to add that extra kick. Squeeze some fresh lime juice over each serving. Top each bowl with a cooked shrimp (with head and tail if you can find them like this.) One of the key things with gazpacho is to prepare it a day in advance and let it cool to develop its flavors in the refrigerator. Gazpacho is nothing short of the gates of heaven as the starter for an outdoor summer dinner.


What you need.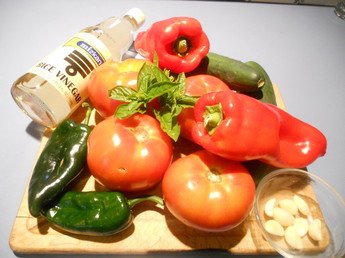 Ingredients
Tomatoes: several large or plum tomatoes.
Cucumbers: two.
Red bell peppers: about two depending on size.
Green peppers: poblanos, or Italian sweet.
Hot peppers: to taste. Thai or jalapeno. (Scotch Bonnet are far too hot.)
Garlic: six or seven cloves.
Rice vinegar: 1/2 cup. You can also use white wine vinegar.
Water: have about 1/4 cup on hand.

Optional but necessary.
Clam juice: for a very different taste.
Basil: for garnish.
Lime: for garnish.
Shrimp: for garnish.
Toast tips: for garnish.


---
Equipment

Sharp knife
Large bowl
Fine strainer
Food wand, Food Processor or Blender

Getting started : the mise-en-place

There is no cooking in this recipe.
It's all prep work.
First, set out your large bowl to receive all the following.
The Bell Peppers

The Bell Peppers.

Cut open the peppers and remove the seeds. Use a sharp knife to slice off the white ribs.
Dice the peppers.
Add the diced peppers to the main bowl.



---

The Hot Peppers

Hot peppers. (optional)
If you are using Thai peppers or jalepenos, slice them open and
remove the seeds and the white veins.
These parts contain an abrasive heat. (Of course, is that's what you want, leave them.)
Dice the peppers and add to the large bowl.
Be careful with these peppers in two ways.
First, don't add too many to your food. Even two small Thai peppers give the
gazpacho a good deal of heat.
Second, be sure to wash your hands well with soap and water after cutting up the
peppers.



---
The Tomatoes: step 1

Cut out the stem section.
Cut the tomatoes at their equator.
Set a fine strainer over a bowl.
Squeeze the seeds from the tomatoes over the strainer. The liquid will go through.





---

Step 2

Press out the seeds in the strainer to remove as much liquid as you can.
Add
the tomato juice to the large bowl with the cucumbers and
peppers. Discard
the seeds.


---

Step 3

Chop the tomatoes and add to the large bowl.



---
Blending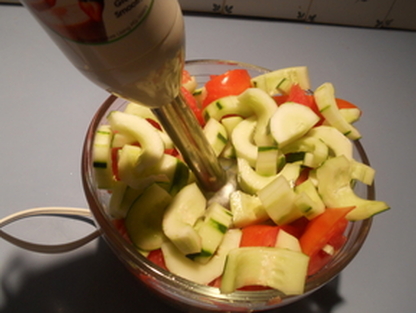 Blending
Use a hand wand, food processor or blender.
Blend until all the elements have broken down.
Add salt and pepper slowly and taste between each addition.
Optional variation.
Clam juice. Blend in the clam juice at this point.
ESSENTIAL
Set the bowl in the refrigerator for a full day or overnight before serving. All the flavors need to marry. Be sure to serve the gaspacho very cold.


---
Serving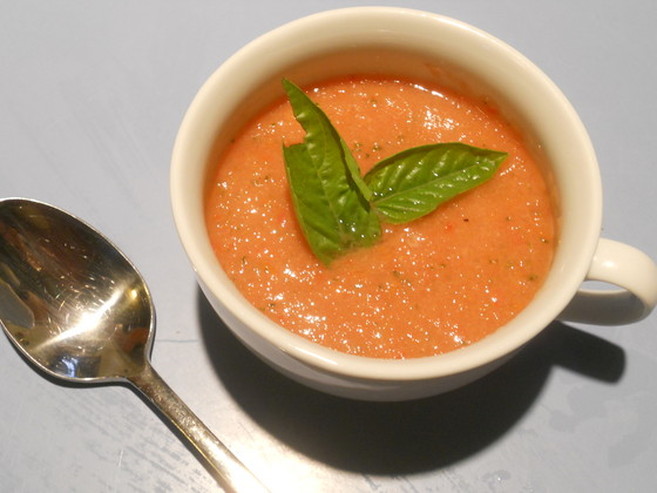 Ladle into large cups, wide tall stemmed glasses or bowls.
Garnish with cooked shrimp, basil and lime.
---