Ciambotta :an eggplant, zucchini, potato & tomato stew. Of course,the way they said it was "Jahm-

butt

!" (The correct Italian is "ciambotta," (cham-

bow

-tah), or sometimes "giambotta".) My father and most of my relatives spoke no Italian, so their pronunciation was a bit skewed. As with many Italian American food dishes, my father and his generation repeated the words only by what they thought they heard.So, "

Pasta e fagiol

i," "pasta and beans." became "pasta fazool." "Ciambotta," became "jahmbut." Their Italian may not have been quite clear, but what they preserved in the Italian American Kitchen was quite meaningful. So whether you say ""ciambotta" or "jahm-butt" this wonderful vegetable stew is a sweet summer delight. Aside from my mother's raspberry jam, there was probably nothing more that said summer than the when this was cooking on the stove. In fact, the sweetness of the ciambotta's fragrance rivaled that of the boiling raspberries.

My sister, my brothers and I spent the summer months at our family's New Jersey shore home: right on the beach. Our father came down on weekends. His car pulled into the drive promptly at six in the evening each

Saturday. In those days there was no Atlantic City Expressway. Even

when they built it, he never used it. Pay tolls? Never! His way to the shore was along 555/557 through Buena Vista and New Jersey farm country. On the way down he would stop along the back roads at every farm house with a stand. He loaded the back of our Ford nine passenger wagon: trays of blueberries, wooden pecks of peaches, eggplant, peppers, squashes, tomatoes, corn.

Bushels and pecks

(Does anyone these days even know what a

peck

is? Who remembers the weights and measure tables on the back of the "marble copybook?) My father was our own family huckster man. (Does anyone know what a

huckste

r is?) The baskets lined the hallway pantry behind the kitchen. The corn was husked buttered, salted and peppered that very night. The fruits that we didn't eat immediately would go into preserves and jams: all melted down in my mother's black speckled enamel canning pot The jams were and still are so wonderful that even the following January you can open a summer's day by turning the Ball jar lid of her raspberry preserves.The vegetables became a wonderful variety of dishes from eggplant Parmesan to zucchini bread. For a non-Greek, my mom could turn the eggplant into the best

Moussaka

I've had outside Athens.One of the simplest preparations that my father's baskets of vegetables became was a simple onion, squash and egg sandwich on an Italian roll. But of all, my favorite was, and still is, the"ciambotta."

---

When I researched ciambotta on

Google Italy

I found the expected

variations.Some versions include peppers; others are limited to zucchini, tomatoes and potatoes. I don't recall peppers ever in our version.

Peppers went into the

pepperonata

.Some Italian recipes included meat or fish: two things that for us, almost by definition, would not be included.

While working on Google Italy I found a similar Lebanese recipe called maghmoor that uses chick peas as the starch rather than potatoes.

http://www.tasteofbeirut.com/2011/07/summer-eggplant-stew-maghmoor/

Turkish version

---

Later, as an adult, I learned

Julia Child's version.

As is usual for her fastidious approach to cooking, Julia suggests that each vegetable be cooked separately and then layered before going into the oven. I love all the variations of this recipe, but the one from my childhood, which blends all the vegetables distinctly and includes the substance of potatoes is my favorite.

---

Ciambotta is the child of fresh from the field New Jersey summertime eggplant, zucchini, tomatoes, onions and potatoes. Read about a day trip excursion to Jersey Farms at

www.daytraveller.net

.This is one of the easiest recipes you will find. It only requires chopping.

The result is the most delightful, sweetest combination that verges on

being a dessert. Talk about comfort food? This is it.
What you need
Equipment
A large cast iron pot with a lid, or a Dutch oven, or other heavy oven pot with a lid.
Tongs
Sharp knife



Ingredients

Equal amounts of the following according the size of your pot.
Onions: one very large or two medium.
Potatoes: two large or several small.
Tomatoes: three or four large or about
six of seven plum.
Zucchini: two green and two yellow.
Again the amount will depend on the size of the squash.
Eggplant: One large or several small.
This illustration uses several small.
If you have them in your area the squat pink eggplants are excellent.
Garlic: several cloves.
Basil: several large leaves.
Olive oil.
Salt, pepper.


---
Getting it ready : the mise-en-place have all your ingredients prepared before you cook.
Oven: preheat to 350
The rest

Add all the other ingredients including the basil, salt and pepper.
Stir about lightly.

---

Oven

Cover the iron kettle and bake in the oven for one hour. Check the potatoes for doneness. Depending on the type, they may need a few more minutes.
Remove from the oven. If you find there is too much liquid, put the kettle on the stove and reduce the liquid.
Check for salt and pepper.

---
Bring the kettle to the table and serve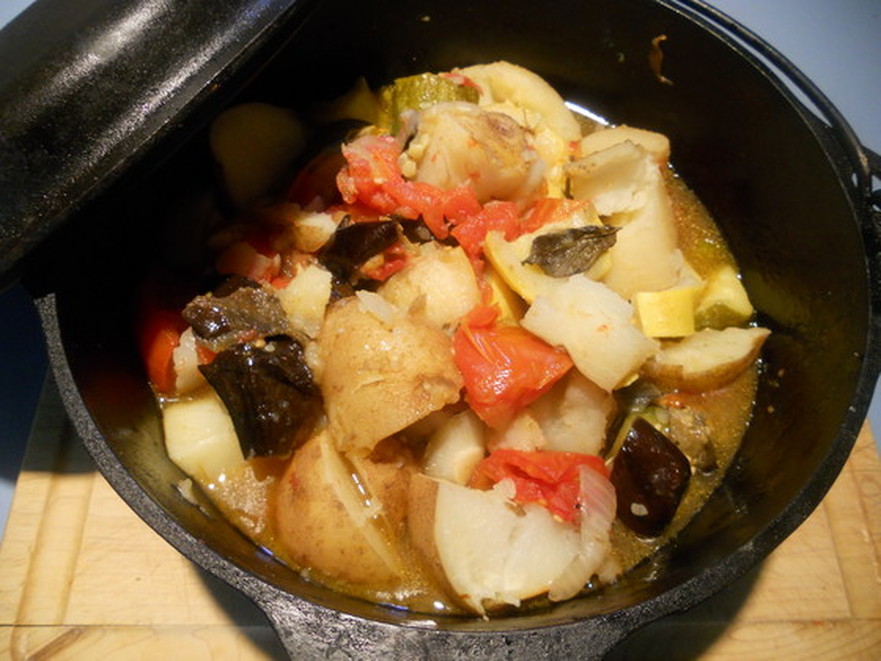 ---