Zuppa di Pesce, Fish soup. There are few dishes more delightful than any kind of fish soup or stew. The master of all such recipes is, of course, the traditional Marseille Bouillabaisse. I know this dish well from my days as a student in France. In those days, on the docks of Marseille, bouillabaisse was even around for breakfast. I remember the smell of garlic, not only in the soup, but exuding from the fisherman as they walked by. The Marseille bouillabaisse was dense and very gelatinous. I doubt many Americans, even with the experience of contemporary cuisine, would take to it easily. Then too, in America, they would probably never really taste the real thing.
One of the main ingredients is the otherwise inedible rascasse, a type of lion fish that we simply do not use in this country.
While bouillabaisse has no equal, it is not a simple or inexpensive enterprise For one of the best American adaptations to this dish, look to Julia Child's Mastering the Art of French Cooking. While Julia's method may be impeccable there is still the question of the kinds of available fish in this country. On the other hand, there are several Italian based recipes for a hearty fish soup that are not as demanding. Lidia Bastianich offers a few in her cookbooks and TV shows Then too, you might google any number
of recipes for cioppino the fish stew that San Francisco Italian fishermen have given us.



While all these recipes are superb and supremely satisfying, I still wanted to find a way to make a fish soup that was easy and inexpensive. After days and days of research and experimentation, this is my result. My version replaces the density of the bouillabaisse fish stock with the addition of cannellini beans while retaining the lightness of the SanFrancisco cioppino.
This version renders a very light and quite pleasant fish soup.
The taste of the fish, tomatoes and garlic is light and attractive. While a good bouillabaisse may offer a thick gelatinous sensation, this version is a bit brighter.
Buying the fish.
If you have a good Asian grocery store in your area, such as H-Mart, you will want to visit their fish counter. If not, look for a good quality fish source that does not charge exceptionally high prices. Otherwise, this recipe can break the bank. Good fish can be more expensive than meats.


What you need
Equipment
A good size stock pot, or cast iron kettle


Ingredients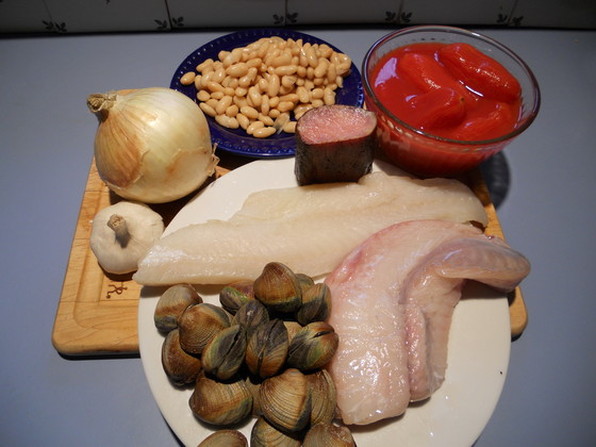 FISH:
Several pieces of thick, dense fish filet. Use what you can find. This recipe uses one filet of each of the following:
Cod.
Tilapia.
Monk fish.
(Any other solid fish - not salmon)
Shell Fish.
A few scallops ( about six).
A good dozen of clams or cockles.
Other items.
Pork: pancetta, bacon of other cured pork.
A baguette or loaf of French or Italian bread.
A good size Vidalia or sweet onion.
White wine.
Fish stock ( buy it from your fish monger or make your
own.).
Cup of hot water.
Olive oil.

A can of whole tomatoes (San Marzano are preferable)
A can of cannellini beans
Salt
Hot pepper flakes (optional)

---
Putting it together

The fond

Dice the onion, garlic and cured pork.

---

The boil base

In a large cast iron pot or stainless steel pot heat olive oil to coat the bottom.
Dice the onion and add to the oil in the pot.
When then onion becomes clear add a good pour of white wine.


Let the wine simmer for about five minutes to dissipate the
alcohol.
Add the fish stock.
Add a cup of hot water.



---
Ladle and serve with toasted bread.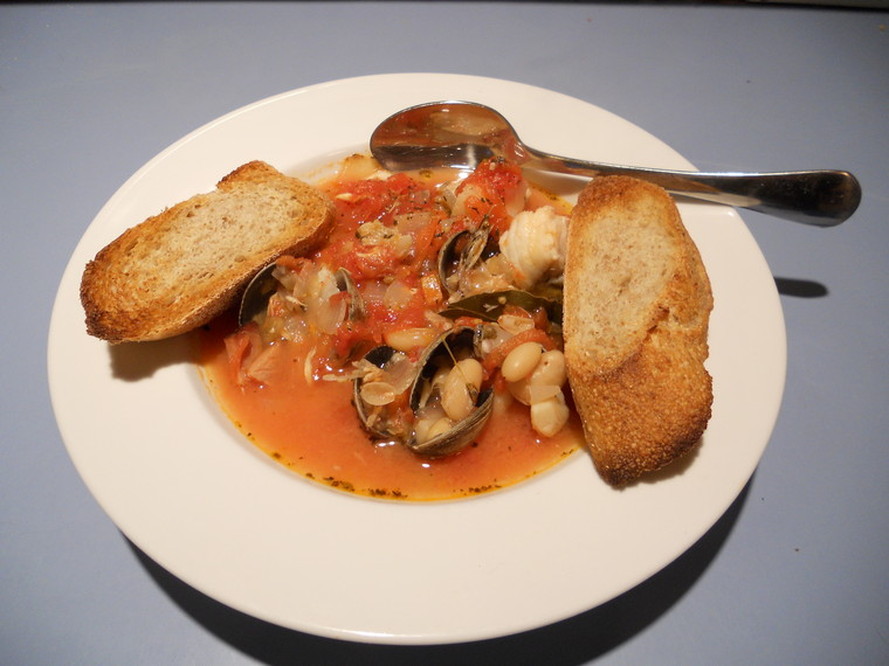 Ladle the fish soup into individual bowls and set the toasted bread to the sides. You might also set the toasted bread in the base of the bowls and ladle the soup on top. Sprinkle olive oil on top.
---