This morning I went out to Linvilla Orchards, a local "pick your own" farm with produce from their own fields. A tractor was bringing in a load of corn.

A young girl was sorting by hand, one by one, a bushel of cherries.

Peaches were in. I bought a peck of peach seconds for making preserves.

Then, on the center bench of all the produce were the tomatoes. Summer tomatoes: fruits of those few weeks of fresh, ripe tomatoes! Do fully ripe tomatoes on an August morning have any equal? From the vine to your

hand to a splash between your teeth. Alone, pure, perfect. Ripe summer tomatoes are total food honesty.

But, then, beside immediate consummation from the vine, there are other ways to delight in a summer tomato's sweetness. Here is a marinara (meatless) sauce that should be a pleasure to any vegetarian.

Take these tomatoes, slice them up. Mix them with cumber, olives and feta cheese. Such summer tomatoes take you to Crete, to Santorini: they are the soul of an invigorating Greek salad. Then too, summer tomatoes can take you to Spain. Pulverize these sweet gems and mix them with their companion cucumbers, peppers and garlic. Chill them overnight and they are the base of a refreshing

gazpacho

. Turn them to the oven. Cut them in halves and mound them with any kind of stuffing, they are heart satisfaction when slipped beneath a broiler. The uses for tomatoes go on forever.

But, here is another to add to the list: a simple tomato marinara. When I

first thought of adding a meatless tomato sauce recipe to this site I wondered what would be the point. To my mind a fresh tomato sauce was self evident. Who would not immediately and naturally use fresh summer tomatoes to create a delightful sauce.

Who? Well, and here comes the downer. I realized that there were probably few. I thought of certain of my own family members who think tomato sauces only come from jars, complete with corn syrup, stabilizers and preservatives. The image of that jarred concoction redolent with the scent of violently pungent dried oregano triggered an immediate reaction.

As an antidote to that image my inner self conjured up a healing memory. I saw my student days in Italy, I remembered a little road side restaurant somewhere South of Salerno.The husband and wife cooks presented me with a hand written menu with about five items. There was only one item my student budget could afford: pasta con pomodori: the simplest preparation on the menu. But, in the heat of an Italian summer afternoon, there was nothing more delightful, more satisfying. How could you improve on the rich pasta and the sweet tomatoes? This is a pasta dish that actually works better precisely because it is just fresh fruit with no meat: a pure marinara, vegetarian dish.

This is an ideal sauce for homemade pasta, especially for

home made
gnocchi.

Fresh tomato sauce marinara is the quintessential example that the finest food is the simplest food with the freshest ingredients.
What you need
Equipment
A wok or good sauce pan.
Large pot for the pasta.
A sharp knife.
A spider (for "macaroni" type pasta).
Tongs ( for spaghetti).
Wooden spoon.
Boiling pot for the tomatoes ( if needed)



Ingredients

Tomatoes, fresh from the garden.
Italian or plum style are the best. They have the deepest flesh.
Garlic.
Olive oil.
Red Wine. ( 1 cup)
Salt and pepper.
Basil.
Pasta of choice.
Garnish: Parmesan, Locatelli or Pecorino romano.






---
Getting started
Set a large pot of boiling water on the stove for the pasta. While the water for the pasta comes to a boil, prepare the tomatoes and garlic.


Tomatoes - peeling

If the tomatoes are very ripe, you can peel them directly after cutting
them in half.
If the skins don't come off easily, set them for about a minute in a pot of boiling water. After a minute remove them from the boil and set them in a bowl in the sink under cold running water.



---

Chop tomatoes

Chop the tomatoes into nice sized chunks. Don't make mush.

---
Pasta

By now the water is boiling.
Add the pasta and cook to your preference.
I like no more than nine minutes.
I like to finish the pasta in the sauce.

---

Combine

When the pasta is al dente, add it to the sauce.
Add a ladel or two of the pasta water to the sauce.
Let the pasta finish in the sauce for about five more minutes. In this way it will absorb the sauce into its pores.
Stir well.

---
Plate and Serve - garnish with cheese and basil.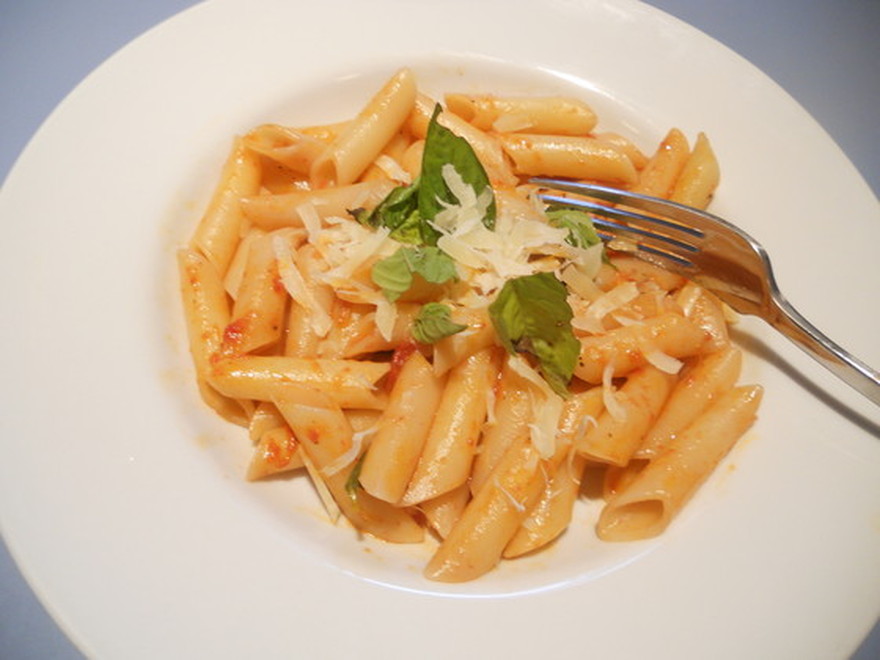 ---