In my suburban Italian American home, pasta e patate, pasta and potatoes, was not only completely unknown, the very thought of it would have been improbable. Why would anyone mix potatoes and macaroni, a starch and a starch? When I asked my mother about his recipe she assured me that pasta and potatoes was never a mix. Yet, despite no clear memory of pasta and potatoes, and my mother's assurance something from my early childhood was whispering to me.


We certainly mixed macaroni with beans: pasta e fagioli, called "pasta fazool." That was a kind of starch and starch. I also seemed to recall something like pasta fazool in the kitchen of my Aunt Annie who was our South Philadelphia matriarch of the Italian American kitchen. Somewhere in the past I saw myself at her ever loaded food table. I always see Aunt Annie from behind. I see her ample girth tied with the bow of her apron while we I sat at the table with one of her giant soup spoons in my hand and before me a heavy white bowl filled with ditalini, potato cubes and a light tomato broth all sprinkled with dry oregano and Parmesan.


---

With no certain recipe in my head I turned to the ever valuable websites of Google Italy. Google Italy offered countless pages for pasta and potatoes. To render the search more manageable, I added two other criteria that I entered in separate entries. I would do a search for Neapolitan recipes, to account for my great grandmother's side that came from the pasta capital, Torre Annunziata and another search for recipes from the Cilento, the area that my great grandfather came from in 1885.


My thought was that if the there was a tradition in the family of pasta and potatoes it would have come from either Naples or the Cilento. The varieties and variations were staggering. One thing was certain, pasta and potatoes was indeed a standard dish. Why had it disappeared in America? Was it because pasta and potatoes belongs to a world which immigrants wished to forget?


---

http://www.ristorantepresident.it/la_cucina_povera_napoletana_introduzione.html

In Italy, pasta and potatoes belongs to what is called "cucina povera," the "poor man's kitchen." In America the Italian immigrant was creating a new kitchen of modest but measurable relative affluence.


---

I continued with my searches on Google Italy. American Google had almost no suggestions. The results sent me in diverse directions. I narrowed the search parameters. Nonetheless, the recipes for pasta and potatoes were countless and varied. Some of the recipes closely resembled what I think I recall. Other recipes went in a completely different direction. Many recipes called for a pancetta or sausage base. On the other hand, I also found a few Neapolitan sites that specifically noted that there should be no meat in this recipe since pasta and potatoes is a staple of the "cucina povera." In these meatless dishes, the recipe is enriched by a vegetable broth. As I thought on this restriction, it struck me that the meatless version may very well be what I remember as a child, since meatless Friday was often I time I might be visiting my Aunt Annie in South Philadelphia. In the end, after trying several versions of pasta and potatoes I put together a composite. In the recipe that follows you can use the pancetta and meat stock or leave it out and prepare a vegetarian version. This dish is more a dense soup than a pasta course. It works wonderfully for a children's warm winter lunch. In my version I have taken the liberty of adding peas. I found no recipe on Google Italy that had peas. I add them because I like them and because many other Neapolitan recipes include peas with pasta. The green of the peas appeals.Children will be warmed on a cold winter's day after playing in the snow.


The Recipe
Equipment

Enameled pot or other heavy pot
Wooden spoon
Hand wand, blender or food processor.



Ingredients

Clutch of potatoes (about 1 1.2 lbs)
Ditalini, conchiglie or mixed pasta - one cup
One sweet onion
Two carrots
Two stalks of celery
Several whole canned tomatoes
-----
Optional
2 cups beef stock
Pancetta
Cup of peas. thawed.



---
The Mise-en-place, Getting everything together
_____________________________________________________________________
On the stove
Beef stock (for meat version) or Water

Just after adding the potatoes, add the beef stock for the meat version.
Otherwise, add about two cups of water.

---

Extra water

Have several cups of water on hand.
If the pot looks dry add some microwave heated water to the pot.

Simmer for about 20 minutes until the potatoes are cooked.

---
Purée (optional)


When the potatoes are cooked (test them), Ladle out about a cup into another bowl and purée with a hand wand or food processor.Set the purée aside.
This is an optional step that adds a certain substance to the dish, especially as a hearty winter lunch for children.


---

The Pasta

Check the pot for the remaining liquid. you may need to add another cup of water to cook the pasta.

Add the ditalini, conchiglie or mixed pasta,

Do not overcook, About seven minutes should be enough.

---
Garnish with grated cheese and serve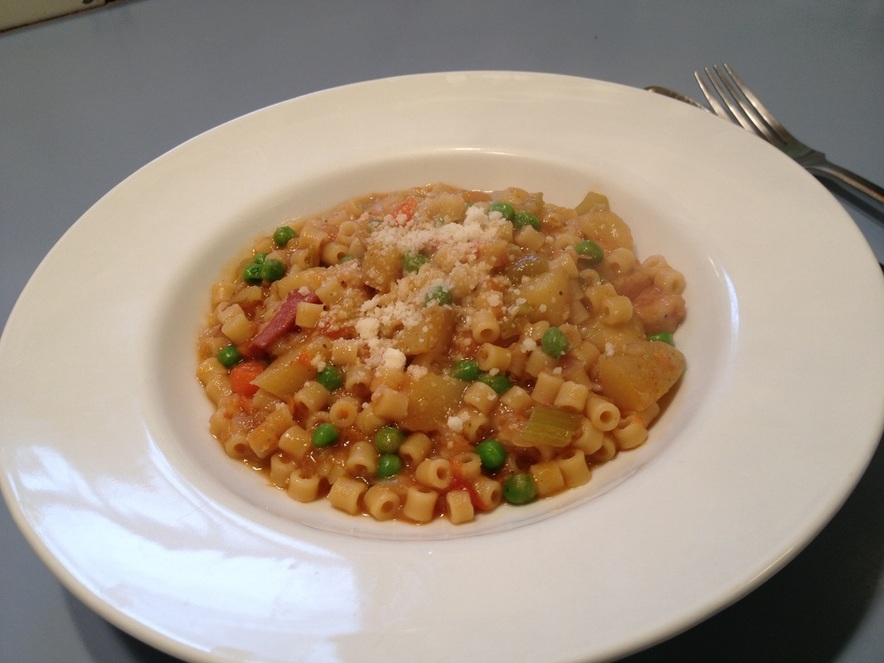 ---