Squid and shrimp croquettes are variations of childhood memories. Friday was always meatless, and among the variety of recipes for that day with a fish on the calendar were croquettes. During the rest of the week we might have chicken croquettes but on Friday chicken was out of the question. Croquettes were then made with apples. What I have done here is to echo the chicken croquette version but I have substituted squid and shrimp. Shrimp and squid croquettes also have something of an Asian feel and they are quite tasty The problem with squid and shrimp croquettes is the word "squid." "Squid" is an ugly word. Kids immediately turn away when they hear it. They do the same when they hear the word "squash." So do no small number of adults. Must have something to do with the "squ" sound. But squid has another name: one far more acceptable if not even desirable, "calamari." Of course anyone of Italian extraction would hear it as "galamahd." But beyond Italian American pronunciation, the word, like the tentacle creature itself, finds its way throughout the Mediterranean. "Calamar" is virtually the same word in Italian, Spanish, Greek, Turkish, Romanian and French. Only the Atlantic Ocean Portuguese have a different word. They call it "lula."
When I was a kid, there were two distinct uses of this cephalopod. Each use had a specific name. "Squid" was never something you ate. Squid was bait: especially bait for the crab box. On the other hand, "calamari"(galamahd) was part of dinner. How we call things depends on how we view them as food.
When I watch Iron Chef, especially the original Iron Chef Japan, I often find myself wondering, "What do some of these unusual food preparations really taste like?" Neither the American nor the Japanese editions of this show publish the recipes contrived by their chefs. The other night the Japanese version featured squid as the main ingredient. Squid is one tricky fish. Like its relative, octopus, it has to be cooked either within seconds or with a long braise. If the squid is somewhere in between, it's what we used to call "shoe leather." Fried calamari is not terribly difficult. But I have never been successful with either with stuffed calamari or with spaghetti and calamari.

For me, the squid in these two recipes just always seems tough. So, when I saw this episode of Iron Chef, I was especially intrigued. What would they do with squid? One preparation quickly caught my attention: squid croquettes. For this recipe, the chef blended squid and scallops in a food processor, rolled the blend into balls, breaded them and fried them. This was something that I had to try. My first attempt was good but nothing special. The result was something resembling sausage. The squids' density and glutinous structure completely covered the more delicate scallops. While the concept of a fritter or croquette was good, the mixture needed to be made lighter.
I tried again. This time I added green onions and, more important, potato. Scallops are too expensive and too delicate to be lost in a blend. I substituted shrimp.These additions altered the croquettes considerably. The potatoes lightened the blend and moved the mixture from a sausage to a croquette.
Served alone, these croquettes are delicious.The green onion invests them with a very Asian taste. But you can also add any kind of sweet or savory salsa or accompaniment. On this page I suggest roasted leeks and a bath of fish stock and butter, but you can use anything that strikes your fancy, even salsas from a jar. Use these croquettes as an opening course or as an appetizer.
In addition to the croquettes, you can use the squid and shrimp mixture as an addition to any broiled fish. An example follows.


What you need

Equipment

Food Processor.
Wok or deep fryer.
Sharp knife,.


Ingredients


Squid: one or two large squid. If you have access to an Asian grocery store, you can find them. If not, you can use the smaller, fully cleaned squid in a an average chain grocery store.
Shrimp: about 1/2 pound.
Potatoes: any kind., about three small.
Green Onions: about four.
Panko: about one cup
Leeks. as a condiment,
(Note: you can certainly add any other kind of fish to these croquettes. Scallops are excellent - but are also expensive.)





---
Getting it together :La mise-en-place.
______________________________________________________________________________________________________________________________

Leeks and Potatoes in advance
Start with cooking the leeks and potatoes. The lees will serve as a garnish. The potatoes. which should be microwaved by the time you finish the squid and shrimp preparation.will go into the croquettes.
______________________________________________________________________________________________________________________________

Leeks


Wash the leeks of sand,
Slice them down.
Put them in an oven proof dish and cover them with aluminum foil.
Bake them for about an hour.
I use a toaster oven for this step. No sense in heating a full oven,




---

Leeks


While you are preparing the croquettes, the leeks will bake. After about an hour they will cook down.
Smash them roughly with a fork.
Set them to the side.
They will garnish each croquette.


---
The Squid and Shrimp
Two methods. The first if you buy your squid from an ethnic market that sells the whole squid, the second if you buy cleaned squid.
_______________________________________________________________________________________________________________________________

Whole Squid

Cleaning


If you buy your squid whole, you will need to pull the head from the body.
Cut off the tentacles - and save them.



---

The cuttle


Pull out the cuttle bone: the clear plastic-like rib that runs through the body. It is often easy to cut off the tip at the far end where you can easily pull out the cuttle.


---
Cleaned Squid

Food Processor


Add all the ingredients to the food processor.
Run for a minute or so.
Open and check to see that all the pieces have incorporated.
Note - for more fish texture use less potato. If you want a lighter croquette use more potato.


---

Croquettes


Wet your fingers.
Shape the mixture into balls. Roll them in the panko.
Set them aside on a dish.
I find that it works best to let them sit for at least an hour before frying them.


---
Plate and Serve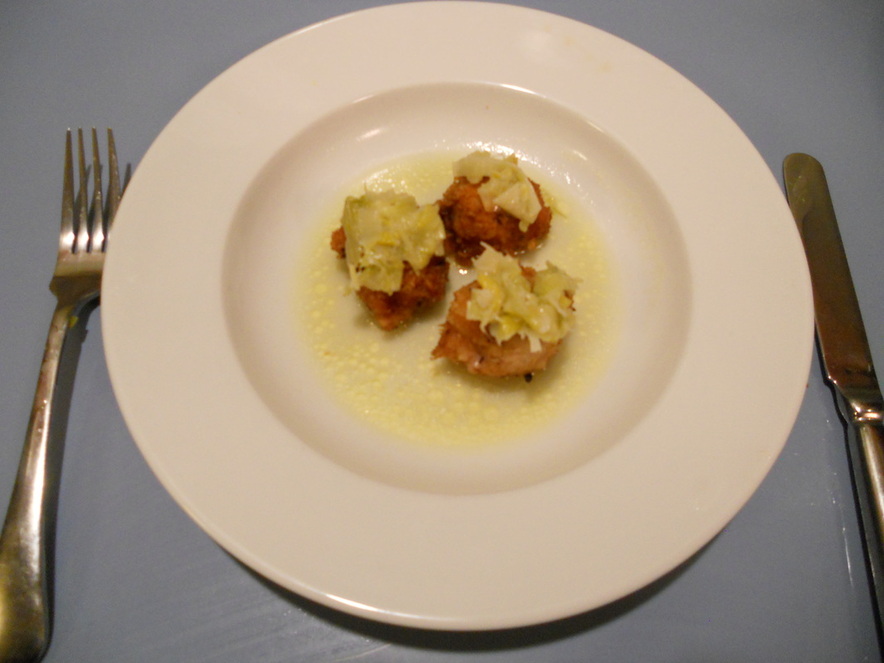 Top each croquette with a dab of the melted leeks.
Spoon some of the fish and butter stock into the bowl.

---