Spaghetti with leeks, eggs, parmesan and peas is a fundamental meatless recipe that is kin to

pastina and eggs

. Peas are a very traditional Italian American kitchen addition. It is March. I'm ready for a pasta primavera but while winter is coming to a close it will still be weeks before the gardens and farms in this part of the country are green again. So, in thinking what might serve as a winter variation, leeks came to mind. Then my friend Emma, who also inspired my meatless Minestrone, reminded me of the winter delights of leeks and eggs, a favorite brunch on a cold morning. When I thought of the eggs I suddenly remembered pasta carbonara. But, with Emma in mind, I made the jump to a meatless carbonara. Then it all seemed to meld together. Need something sweet but without pork - use leeks. Need something velvety like carbonara - retain the eggs and cheese. So here's what I have. Spaghetti with leeks and eggs, garnished with Parmigiano and peas.

Not only is this very satisfying (there is something very comforting about eggs and pasta) but this is one of the quickest and easiest pasta dishes to make. In the time it takes to boil the water and cook the spaghetti all the pre-work is done. I also have to note the fragrance of cooked leeks is one of the fine perfumes of the kitchen. This version is also meatless, but, you could start with a base of pancetta or bacon. One word of caution about the eggs.Only put the eggs on as much spaghetti as you intend to use at the time. Left over spaghetti that goes in the refrigerator for another day doesn't reheat well if the egg is on it.


What you need

Getting things together - the mise-en-place

Plate and serve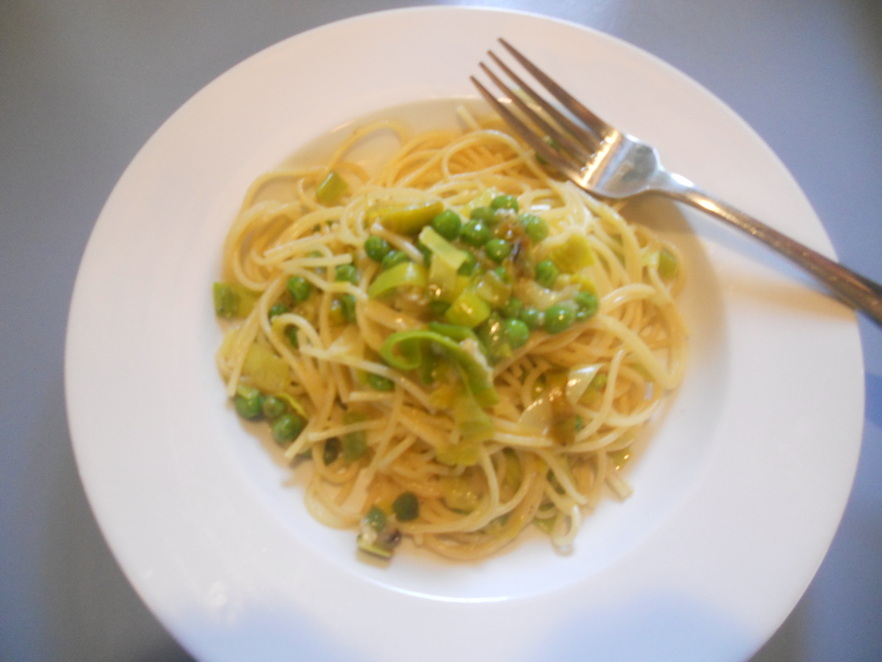 ---
With Penne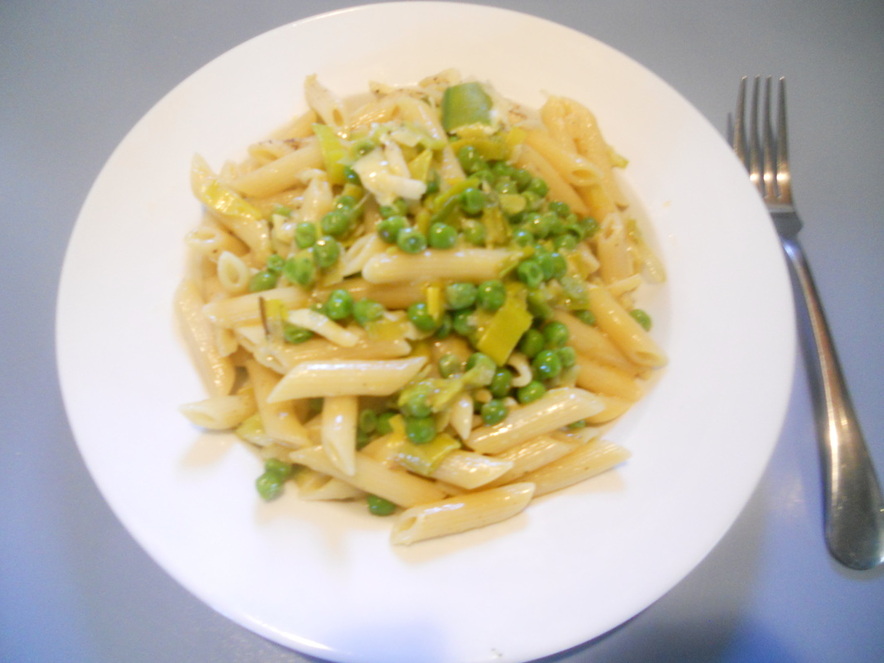 ---