This recipe comes to me from a former student (JM) of some thirty years ago. He's from a Louisiana family and his recipe for jambalaya inspired me
to work on this version. Traditional one pot big dishes like jambalaya are among my favorites. First, as with many similar dishes, it is the history that fascinates me. Apparently jambalaya is a Louisiana accommodation to Spanish paella. Like paella, it has rice and some sort of sausage as its foundation and then includes some other meat or shell fish. The
distinguishing ingredient may be almost anything from rabbit to wild boar and octopus to shrimp. One of the most common combinations is chicken and shrimp.That's what I'm using here.
I make no pretense that this recipe is the correct version. As with all such traditional dishes, there are as many variations as there are people who make it.Some folks say add tomatoes. Others say no tomatoes. Some use
filé, some do not. What I've tried to do here is create a rather simple version that uses fresh in season vegetables, pastured chicken and humanely


raised pork. For the sausage I am using chorizo as a nod to the Spanish origins of this dish.In Louisiana, they would use andouille. For the chicken, you can use cubed chicken breast, but I prefer using thighs that I cut into thirds. I think the thighs have much more texture and flavor. It's also important to remember that you can make any number of variations. Or, you can leave things out.
Use pork or rabbit instead of chicken.Use any kind of sausage that you have on hand ( preferably one that does not contain nitrites and that was produced by a humane farm.) You may even be able to find craw dads instead of shrimp. Watch the quantities you use. They have to be modest if you are using a cast iron skillet.You can have this one pot dish ready in under an hour. By the way, no one knows for sure the origin of the word, "jambalaya." There are many theories and even some legends.
But none is certain.
What you need
Equipment
Cast iron skillet that can go into the oven.
Sharp knife for the vegetables.
A cleaver (if you are using chicken parts with bones)
Side dish to hold the vegetables.
Wooden spoon.
Tongs.



Ingredients

Olive oil or peanut oil.
Chicken stock. 2 cups.
Rice. 2 cups. Use Carolina rice, a Spanish rice or jasmine rice - not parboiled or instant.
Fat back or bacon. Use humanely raised pork.
If you don't have locally raised pork, products
from "Nimen's Ranch" are fairly good.
Sausage. Two. Andouille or any other sausage of your choice. I'm using chorizo.

Chicken. I use thighs that I cut into thirds. I think they have the most texture and flavor. But you can also use cubed chicken breasts or any other parts.
Shrimp. (optional) You can also use crawdads if you can find them.
Onion. One large sweet.
Bell pepper. I like red bell peppers because they are sweeter and milder.
A more traditional recipe would use a sharper green bell pepper.
Celery. Two stalks.
Garlic. Four cloves.
Tomatoes. About two or three, peeled.
Spices.
Filé. 1 teaspoon (optional).
Thyme. 1 teaspoon.
Cayenne pepper. To taste. You can also also use a chopped jalapeno, chili pepper, Tabasco or other liquid pepper sauces such as Chalula Sauce.
Bay leaf. One.
Salt.
Pepper.



---
Getting started: the mise-en-place, have all your elements ready before you begin to cook.
Putting it together
Chicken stock

Add the chicken stock that you have pre-heated in the microwave.
Let this come to a full boil.
Keep stirring for about five minutes.


---

Shrimp

Add the shrimp to the top of the skillet.
(Purists would not peel them.)
Remove the skillet from the stove and put it into the
preheated oven for twenty minutes. After twenty minutes test the rice. Be sure to give the rice little stir and taste from the inside. he rice on the top may be a bit crusty, but inside it should be ready. If it is still hard and all the chicken stock is evaporated, add a bit more hot water or stock and return to the over for another ten minutes.

---
Finish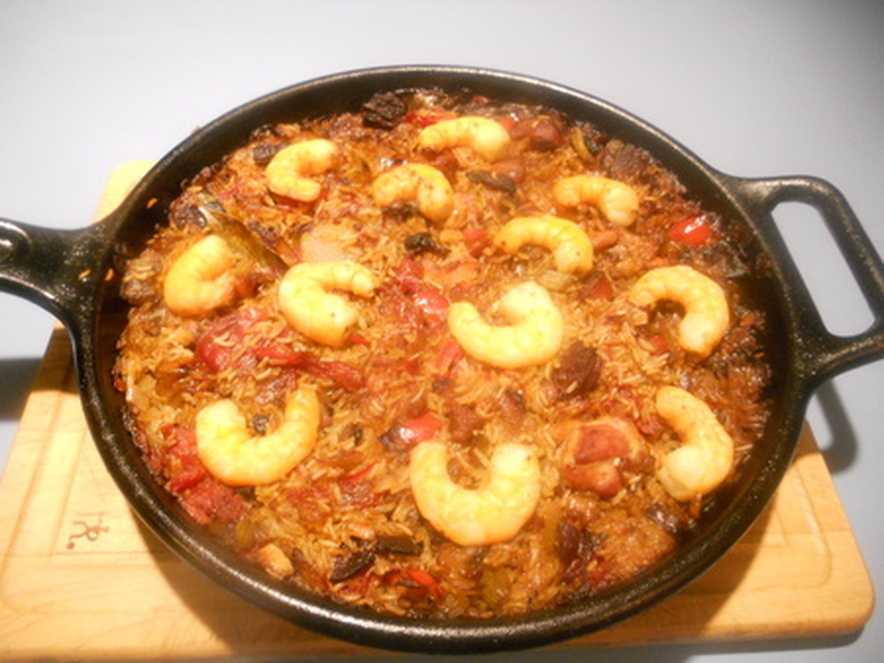 Remove from the oven. Let it sit and settle for about ten minutes. Plate and serve. An easy and very filling recipe.
---