Stuffed Peppers are very much a recipe that comes from the Italian American Kitchen. This morning I made an excursion to

Pete's Produce

at Westtown to see what I could see. Tomatoes were plentiful as were the eggplants, squash, melons and onions all grown on their farm. I loaded my bag with some of each. The thing that caught my eye and triggered memories, however, was the peppers: green peppers. In an instant I saw my mother lifting a pan of stuffed roast peppers from the oven. I saw the dishcloth that protected her hand from the hot Pyrex dangling in front of my father's face as she brought the bulging peppers to the table.

I don't recall ever seeing a pepper that was other than green. I never liked green peppers. There is something about them that just seems harsh or raw. As the aunts and uncles used to say, "they repeat on you." But they devoured them without hesitation. I can still see my mom's stuffed peppers and I can still smell the greenness. I spooned out the rice and meat but I never ate the pepper. Somewhere around the time I was in my teens, stuffed peppers disappeared from the weekly menu. When I had my own children, stuffed peppers was never on our list. Green peppers were not something I found appetizing.

But at Pete's there was a bench of peppers next to the green peppers. These peppers were ivory and purple. They were not that harsh and crude green pepper whose taste I did not care for. Perhaps these peppers were a bit milder. Perhaps these peppers would be an excellent foundation for stuffed peppers. I gathered a bunch of them into my bag.

To return to this dish and its preparation I first went to the internet. Never have I found any other food with so common an application. Everyone everywhere stuffs peppers. The Mexicans stuff poblanos. The Thai stuff chilies. Every country I searched had a version of stuffed peppers. After all what is a pepper if not a hollow bowl waiting to be freed from its cover so that it can serve as the perfect conduit for a variety of stuffings and fillings: stuffing and fillings with recipes as broad as the earth is round. I found that I could spend an almost limitless time testing the countless recipes.

Just to look at the images from Greek Google is a sensual delight. The Greeks call them γεμιστές πιπεριές (Ghay –mee –

oh

-tes / pee-

pay-

ree-es.) Copy and paste the Greek into your browser, γεμιστές πιπεριές and click on "images." (εικόνες) The red of the peppers is more than seductive. The wrinkle of the roasted pepper skins seduces the eyes and tongue. There is a baritone of enticement in the images themselves.

Then I go to India. In India it seems that peppers are called "capsicums." Many of the Indian versions do not include meat. In place of meat, it seems that potatoes provide the substantial base. Indians take the stuffed pepper into a world of complex spices: garam masala, cumin and coriander. Some recipes call for peanuts.

http://www.indianfoodforever.com/vegetables/stuffed-capsicum.html

The Chinese sites that I found use shrimp or fish mixed with rice as the stuffing. One thing that I found interesting was the way in which the pepper was sliced. Most European versions use bell peppers and cut the cap from the top. Some Asian sites, however, use long peppers; in this case they slice the pepper lengthwise.

I spent several days investigating as many Google national sites as I could think of. Every site in Europe, the Middle East and Asia that I searched had similar recipes for stuffed peppers. The Portuguese proposed the most complex. The Middle East offered the most delicately spiced. A listing of all the sites around the world that offer recipes for stuffed peppers would require a site of its own. As I read these recipes I found myself captured by their variety. I wanted to experience them all. Here is my version, a version based on what I recall from childhood but with variations to accommodate contemporary taste.
What you need

Getting it together: the mise en place.

The Cooking

Serve with Parmesan and basil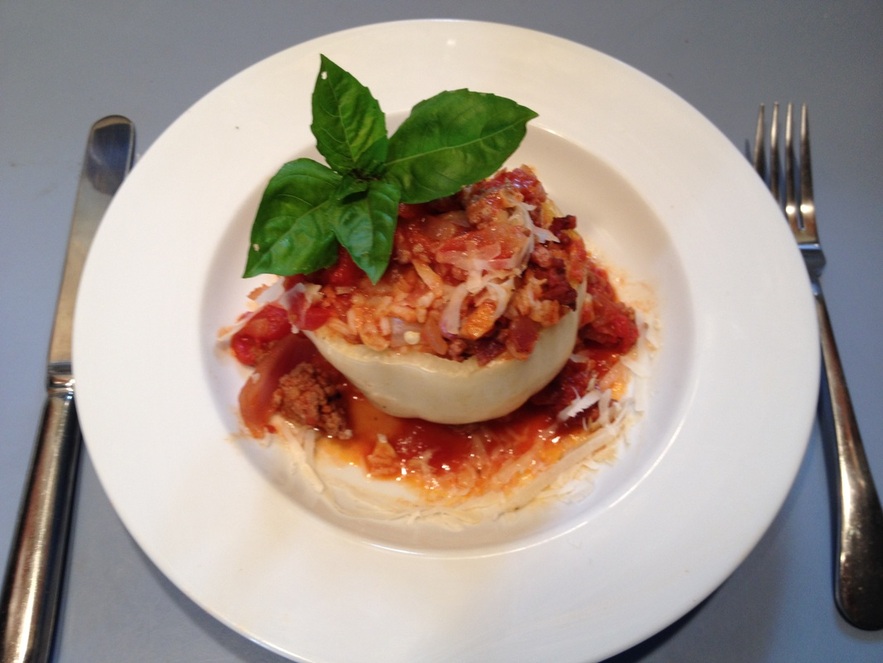 Spoon some of the sauce from the pan over the stuffed pepper. Garnish with Parmesan and basil.
---