Turkey Boned and Brined

Every year at Thanksgiving my in-laws always ask me the same question. "This is so moist! How do you keep the turkey from drying out?" The answer is very simple and so is the method. Bone the turkey and brine it for twenty four hours. I first learned the boning (or deboning) method back when

Julia Child

published her informative but somewhat convoluted "The Way to Cook."

---

Shortly thereafter I heard about brining. The combination of the two methods renders a flawless result. Frankly, I don't much care for turkey. And I really wonder how much other folks really like it. After all, if it's so wonderful why do we only have it once or twice, a year?


from:http://biologybiozine.com

As to the turkey itself, few people realize that a turkey is a relative of the vulture.In the wild it is a dark feathered and comparatively lean bird. Modern hybridizers have transformed the animal into pure white overweight lump with an excessive breast that the skeletal frame barely supports. Some more thoughtful growers however, hold to a mid-ground. They raise what are now called

heritage turkeys

like the Bourbon.

---

While heritage turkeys are not wild, they maintain closer ties to their woodland ancestors. In physical appearance heritage turkeys are smaller than the commercial giants.The feathers of the heritage turkey tend to be dark. Heritage turkey meat, proportional to the turkey's skeletal frame, has a more layered flavor.Two other significant points in favor of heritage turkeys is the conditions in which they are raised and the way the animal is slaughtered. I won't promote any specific site here, but if you would like to see how industrial birds are raised and slaughtered there is no shortage of information online.



Fresh Butchered Turkey

from http://www.philaplace.org

For the deboned turkey ask you butcher in advance when you order the turkey. ( I order my heritage turkey from

Di Angelo Brothers

on 9th street in Philadelphia.) If you bone the turkey yourself it can be a little tricky but it can also be a good learning experience. The single essential is to have the sharpest boning knife. Once you have boned the turkey, it goes into the brine.While you can use any number of containers for the brining, I find the most useful container is the vegetable drawer in the refrigerator. Don't try to reinsert the bin into its slot. Set it on another shelf in the refrigerator. Change the brine water several times over the course of the twenty four hours. Roasting a boned and brined turkey only takes about 90 minutes. Roasting time is much faster than the conventional method.

With a fresh heritage turkey that you have deboned and brined your Thanksgiving Food Table will offer the best to your family and friends.

---
Getting Started
Equipment

Extremely sharp boning knife
Cleaver
A large pot of other container that will hold the turkey.



Ingredients

Fresh killed heritage turkey
Kosher salt
Sugar
The Breast Bone

Hold the breast bone in one hand. In the other hand use the tip of the knife to progressively slice away the breast meat.
Cut away one side, the then other.
Finally, carefully slide the knife top across the top of the breast bone to release it.
Be careful not to split the breast meat.

---

Brine

Set the turkey in an ample container.
I use the vegetable drawer from the refrigerator.
Stir in about one cup of Kosher salt and a good handful of sugar.
Set the turkey in the refrigerator for at least 24 hours.

---
Roasting the Bones

The day before, while the turkey is brining, set the bones and all other parts in a tray to roast in the oven, These will be the base of your stock.

---

Turkey Stock

While the bones are browning, take a large stock pot and sauter chopped onions. celery, garlic and carrots in olive oil.
When the vegetables begin to soften and take on a shine add the browned bones. Add a good two cups of white wine and simmer for a few minutes to reduce the alcohol.
Fill the pot with water to cover the bones.
Let the pot simmer for at least five hours.
Remove the bones.
Let the liquid reduce to your taste.
Refrigerate the stock. The next day take out the stock and spoon off the layer of fat. Heat the stock for serving the finished turkey.
Roasting (finished cross section)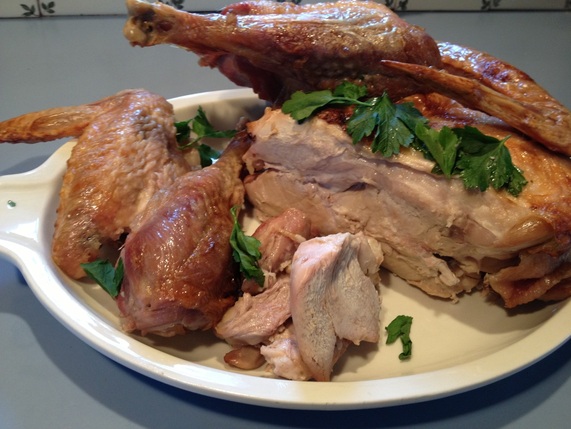 About three hours before you intend to serve the turkey, set the turkey on a rack in a roasting pan,
Rub the turkey skin with butter
Set to the broiler and broil the turkey for about 15 minutes until the skin starts to turn golden.
Strop the broiler. Set the oven to 350.
Roast the turkey for about 90 minutes or until the inside of the turkey reaches 165.
DO NOT OPEN the oven. Do not baste.

Remove the turkey from the oven and let it sit for about an hour before serving

To the left is a cross section of the completed boned and brined turkey. Note that there are no bones. Boned and brined the turkey breast resembles a beef serloin. Slice it the same way as you would a serloin. Remove the legs and wings. Split the turkey along the center of the breast.
Carve the turkey starting at the front of the breast for nice thick portions.
---
Serve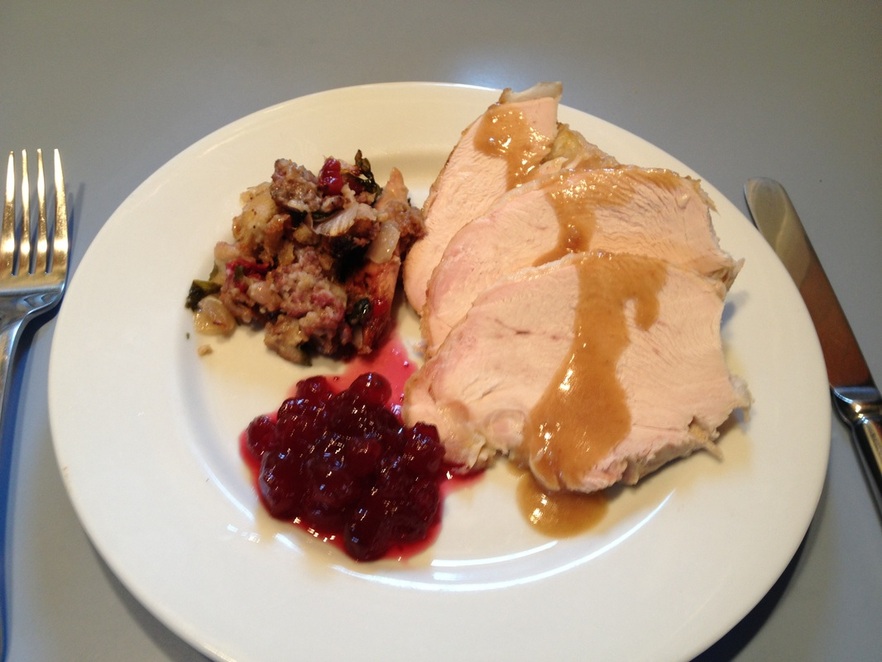 ---