Canning Tomatoes and Tomato Sauce

Canning or should I say jarring tomatoes is easy but time consuming, The first step of course is finding the tomatoes. For me the quest is easy. A short 30 minute drive across the bridge to New Jersey and you can find every kind of tomato imaginable. For jarring in terms of tomato type and when considering price Italian plum tomatoes have no equal. When it comes to price let me give you some examples. At "Ever Fresh" my favorite farm stand just across the bridge in Mullica Hill a 25 pound box of plum tomatoes runs at about $15; a 50 pound crate, as in the photo above is $22. For a good supply I usually prepare about 100 to 150 pounds each August.

Of course, you also need a good supply of canning jars. I usually come home with quart size Ball jars. Anything smaller is pointless. When it comes to using the tomatoes you will usually need at least two jars of tomatoes for most recipes.
---
What you need
---
The Process
Follow the instructions for blanching and peeling the tomatoes as on the page.
For canned tomatoes, since you are not cooking them, you have do drain out as much water as possible. The water is useless and tasteless.We want as much flesh as possible.

REMOVING THE WATER
​After you have blanched and peeled the tomatoes it is most important to remove as much water as possible.
DO THIS STEP BEFORE PREPARING THE JARS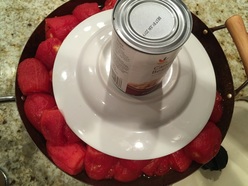 To drain the water you may find methods of your own. Here are some that I use.
​
1. Set the tomatoes in a wide wok. You will immediately see that the wok fills with water. Drain it off.
Set a plate over the tomatoes and set a weight on top of the plate.
Empty the water as often as it needs. This may take up to an hour or even over night if you wish

​





---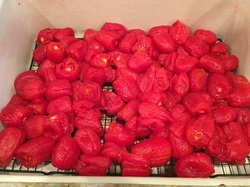 ​2. (I find this the best method) Set a cookie rack in the bottom of your sick. Lay the peeled tomatoes out on the rack.
Cover the tomatoes with a cookie sheet and lay a weight on top. I use the olive oil can.
Again, let the tomatoes drain as long as you like.
---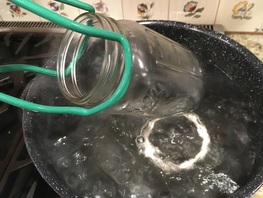 STERILIZE THE JARS
Fill the canning pot with water and bring to a rapid boil.
The size of your pot will determine how much water and how many jars can be sterilized at a time.
Remove the caps and lids from the jars.
Set the jars and caps and lids into the boiling water.
​Use the gripper and be careful of splashes.
Let the jars boil for 20 minutes to sterilize them.
ALTERNATE METHOD
Set the jars and lids and caps in your dishwasher and set for "sani-wash."
Set the canning pot to a rapid boil
---