Portugal


Portuguese caldo verde clearly does not derive from the Italian American Kitchen. But there is something about the use of the kale and the sausage that suggest a kinship to the Italian American Kitchen's use of

escarole

. Portuguese calso verde would be a welcomed addition to any Italian American Food Table. Portugal is not on the Mediterranean. The Atlantic waves caress her western breast. Yet, despite the Atlantic western home, Portugal's soul nestles eastward in a Mediterranean heart. Portugal's tongue is Latin, a Latin that has liquified into soft and rippling, whispering sounds that may best be heard in the Portuguese Brazilian music of Carlos Maria Jobim. Do you remember "The Girl From Ipanima?" Portuguese language and Portuguese food shimmer. Like her cousins in Spain, Italy and Southern France, Portuguese food jumps onto the tongue with flavors rich, complex and ever so simple.

I have never been to Portugal, but I have spent days and hours bent nose to page over cookbooks on her food. Page after page I lost myself in twists and turns in a kaleidoscope of soups and greens and fish and shellfish. Just to look at the recipes and the pictures intoxicates with the freshness of the garden and the sea: clams and salt cod; kale and beans. Most striking of all, Portuguese food seems clean and crisp and delightfully uncomplicated. There seems nothing fussy about the preparations. It is an honest food that delights in the simple tastefulness of the ingredients themselves. How can anyone resist the beauty and taste of a Portuguese "cataplana," a shell fish recipe prepared in a special copper cooker.

---





Soups are usually the first chapter of most cookbooks and this is where I decided to start with my foray into Portuguese cooking. Probably the most significant and typical Portuguese soup is "caldo verde," literally "green broth," a soup based on kale. I first heard of this recipe on an episode of Anthony Bourdain. With numerous cookbooks and the most invaluable Google Portugal (Google. Pt) and Google Brazil (Google.Br) as the sources of my research I found as I would have expected that the variations in this preparation are as numerous as the kitchens that set it on the table.
The lesson to be learned here is that when it comes to simple home style cooking, there is no absolute recipe.You create according to what you feel, to what you imagine, to what you want on your table, to what you have available.Peasant cooking is looking at what you have and simply sensing how you can put it all into a pot to feed your family. You don't need a recipe for that, but you do need a sense of food.
A Portuguese caldo verde is a perfect example.Even the most strict caldo verde is a fantastic soup on its own. But as a peasant food caldo verde allows you to add or subtract to suit what you need, and for what you have on hand. Remember, caldo verde simply means "green broth" a name that suggests a recipe for the most humble boiled greens.
In my research I found that the simplest version of this recipe seemed to be a water based soup that was thickened by potatoes. To this was added kale and onion. The linguiça (linguisa) sausage was not part of the soup base. The linguisa was added as a garnish at the end. From a food history perspective this seems the most probable origin. For a poor farmer the caldo verde would have been composed of the simple things in the family garden. The meat, the linguisa, would have been an added nicety offered in small thin slices. The addition of other ingredients such as a meat based stock would have come later according to economic prosperity. Some recipes for "caldo verde" that I found on Portuguese American sites, especially from Provincetown, include wine, beans, and even beef or chicken. As with all great traditional home foods, written recipes are nothing more than suggestions. The home cook will make additions and variations according to what is available and is limited only by imagination. This is a great soup for winter with its green hint of approaching Spring.

What you need

The Mise-en-place: getting it all together

Chicken stock


Chicken stock is optional. Many Portuguese recipes prepare the soup with just water. If you are a vegetarian, you can skip this step.
I use chicken stock for a richer taste.


---

Onions (and garlic)


Dice the onion into small pieces. Set aside.
Do the same for the garlic if you wish to add it.
Many Portuguese recipes do not mention the use of garlic.


---
Cooking

Sausages


Add the sausages back to the soup. If you want to do the vegetarian version, just leave them out,


---

Variations

Caldo verde can take on any number of variations. The base of the soup, constructed over the pureed potatoes is strong enough in itself. But you can also any number of other ingredients. Inspired by what I found on sites from the Portuguese folks of Provincetown I have added various complements. The best additions, I would say, is either a cup of cannellini beans or a cup of garbanzo beans.

Plate and serve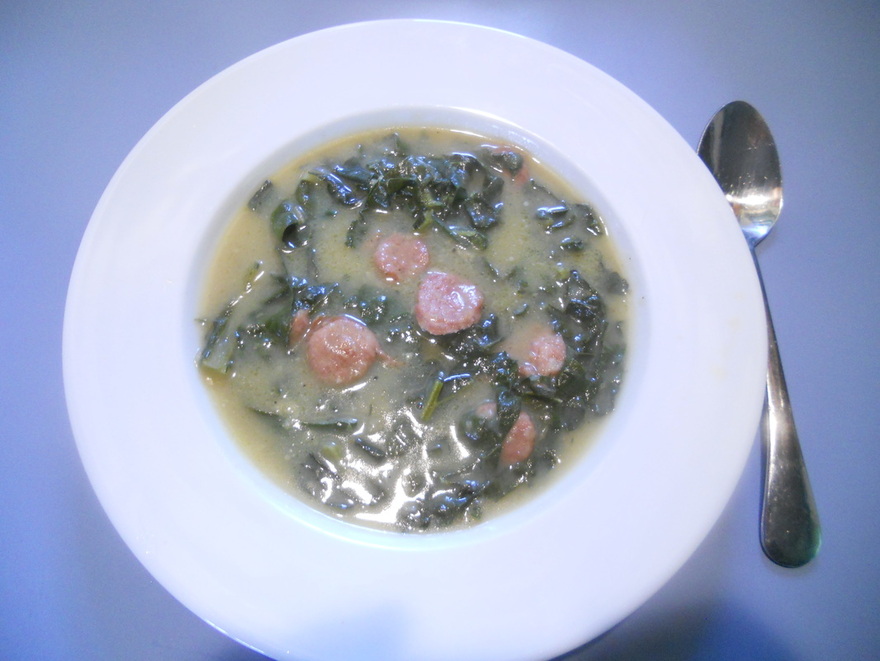 ---