Smelts were always a staple of Christmas Eve Fish Dinner. Along with baccalá, calamari and eel they complete the four pillars of the fish foundation of this distinct event. With the coming of the present generation, today's 20 year olds, the four pillars crumbled and smelts, along with the other staples, disappeared from The Food Table. In the past few years I have tried to restore smelts to their place on Christmas Eve. The family response has been mixed.
For some Italian Americans Christmas Eve Fish Dinner is called by some "The Feast of the Seven Fishes." In my family it was simply "Fish Dinner" and there was no limitation of dishes. The history and tradition of smelts at that dinner has been difficult to establish.


The first thing that I realized as I began my investigation was that "smelts" is not an Italian word. "Bacallá" and "calamari," two of the other principal dishes are known by the Italian names, but "smelts" is not. (Curiously, "eel" is also said in English.) The Italian word for smelts is "sperlani," a word that I did not know and have never heard in either America or Italy.


Smelts

http://en.wikipedia.org/wiki/Smelt_(fish)

On Google Italy I found no mention of it other than its Wikipedia generic description.There were no recipes and no mention of any association with Christmas Eve Fish Dinner, (il Cenone della Vigilia.) I found nothing that suggested smelts as a fish used commonly in Italy. In fact, smelts are not a Mediterranean fish. Smelts are found in northern waters in Europe and America.


---

Christmas Eve Fish Dinner

How then did smelts become a fundamental staple of the Italian American

Christmas Eve Fish Dinner?

My guess is that smelts came to the table for two reasons: they resembled sardines which Italians knew well; and, more important, smelts were cheap.

---



Dust smelts up with a bit of flour or dredge them in bread crumbs or flour, fry them, drizzle them with a touch of lemon and they are the perfect finger food. I am surprised that smelts have not yet made their way to upscale bistro dining. You eat the whole fish, bones and all: the smaller the fish the better. If the smelts are too large, you may have to pick out the bones.
Smelts are shipped frozen.The ones you find in the fish market that look fresh are actually thawed.The best way to buy them is in the freezer counter of your grocery story. Frozen smelts come in a pound bag.Thaw what you need at the time. I suggest two coatings here: one coating is with a mix of flour and corn meal, the other coating is with bread crumbs. Smelts are an easy preparation and an excellent first course for any dinner. Serve with lemon slices or with an Italian salsa verde.


Preparation
Serve with fresh lemon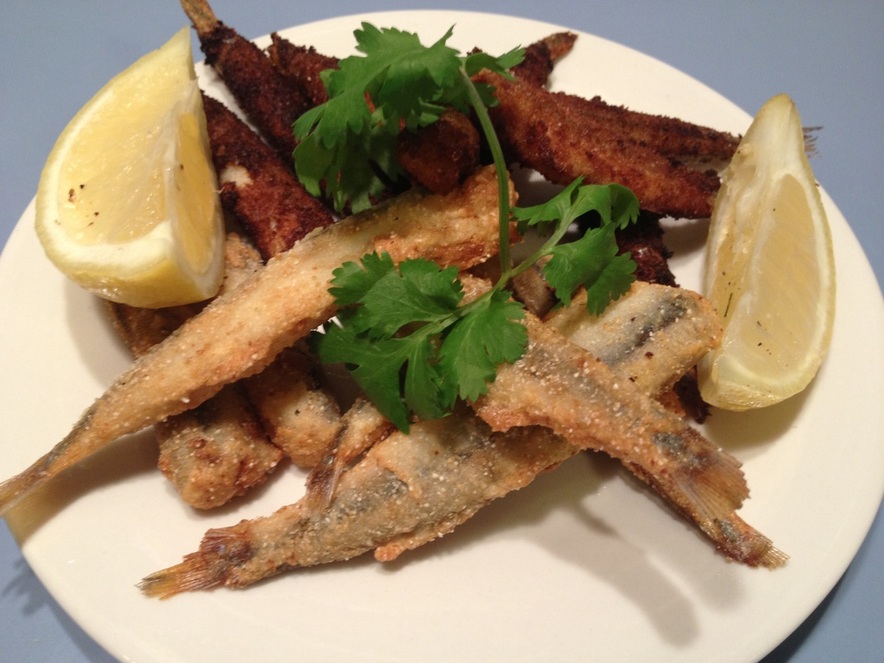 ---