Sausage with Potatoes and Greens is a quick, satisfying and nutritional recipe that can be served as a main course in a simple plating or on a quality Italian roll as a sandwich. Sausage with Potatoes and Greens is a great late winter dish when sausages are still part of the winter menu and when greens are beginning to appear. It works well for a hearty lunch or for a simple dinner. Make it in advance and save it for a late return from work. This dish is heir to a marriage of Italian sausage and Southern pork and greens. In this illustration we use collards, but you can also use any other broad leaf green like Swiss chard. You can also use broccoli rape. ( I would not go so soft leafed as spinach. You want a little substance with the potatoes.)

The most important item here is the sausage. The sausage is the choice you make according to the taste you want and to what you have available. Depending on your sources you can go from wild boar to turkey.If you like
things spicy, use hot Italian sausage (but, be careful, because you may not be able to control the intensity of the heat.) For a simple dinner I prefer a good Sweet Italian sausage from a good butcher who uses properly raised and slaughtered pork. (I would not purchase regular super-market pork. Commercial pig slaughter is beyond all reason.) But, then, I live in the Philadelphia area where I can find a butcher who provides any number of
kinds of free range and humanely slaughtered animals from pigs to
turkeys. Potatoes are another consideration. All purpose are the easiest. Yukon golds move the dish to the sweet buttery side and cook a bit faster. Red potatoes go towards the savory side and add a bit more density.
What you need
Equipment
A broad skillet that also has a lid.
A sharp knife.
A spatula.
A wooden spoon.



Ingredients

Several sausage links.
Potatoes (about three good sized baking
potatoes)
Collards - a bunch ( or other heavy leafed green such as Swiss chard, or even a Napa cabbage.)
Sweet or Vidalia onions ( one very large or two medium size.)
Salt
Pepper
Red Pepper Flakes.
Olive oil.
One of the following: sherry, beer, white wine, water. About 1/2 cup.



---
Getting started. The mise-en-place. Have all your ingredients prepared before you begin to cook.
Onions

Slice the onions on the half so that you have long sinuous slices, not diced
cubes.
Set the sliced onions aside.



---

Collards (or other greens)

Slice down the collards in strips ( chiffonade). Don't chop it.
You want nice strips of greens to harmonize with the hearty quality of this dish. If you don't use collards, try another substantive green like chard or napa. Texture of the green is important to the finished dish.

---
Cooking. With everything in place you are ready to work on the stove.
Microwave the potaoes

Put the potatoes in a microwave dish and cover tightly with plastic wrap.
Microwave for about seven minutes. ( I find microwaving potatoes far better and easier than boiling them.
On a side note, I would think that the microwave does not dissipate nutrient content as water does.




---

Sauter the onions

While the potatoes are in the
microwave:
Heat about three tablespoons of olive oil in a large skillet that can take a lid.
Add the sliced onions to
the pan and simmer on medium until they start to nicely brown.Be sure not to let them turn black.The onions should be soft and golden.They will probably
also leave a certain residue (the "fond") on the bottom of the pan.This is a caramelization of the sugars in the onions.



---
Sausages
Add the cut sausages to the pan.
Let the sausage brown slightly.
At this point the "fond" will surely begin to form on the bottom of the pan.
The "fond" is essential to your finished dish.
When the sausage has begun to brown and you see the fond on the bottom of the pan, you have a few options.

Liquid

The pan now needs some liquid.The liquid will break down and expand the taste of the fond.
Add about a quarter cup of any of the following:
Cream Sherry
( my favorite for a richer taste.)

Beer ( if you prefer a little tang to the finished dish)
White wine (a lighter fragrance.)
Water (a simple means of breaking down the fond.)
When you add the liquid it will pop and bubble.When the sizzling
has stopped use a spatula to scrap around the bottom of the pan to dissolve the "fond."



---
Potatoes

Take the potatoes from the microwave and add them to the pan.
Move the potatoes around so that the "fond" glazes and browns them.This process adds the essential flavor to the dish.
Cover the pan for about three or four minutes to allow
the potatoes to cook further.
Remove the lid.
Salt and pepper the mix.
Stir around the sausages, onions and potatoes.
Red Pepper (optional) add a few shakes of red pepper flakes.



---

Greens

Add the collard or the heavy green of your choice to the pan.
Cover the pan for about six or seven minutes.
The greens should wilt but not turn to gray mush.You want something substantive.
Remove the lid.
Stir again.



---
Plate, drizzle with some olive oil and serve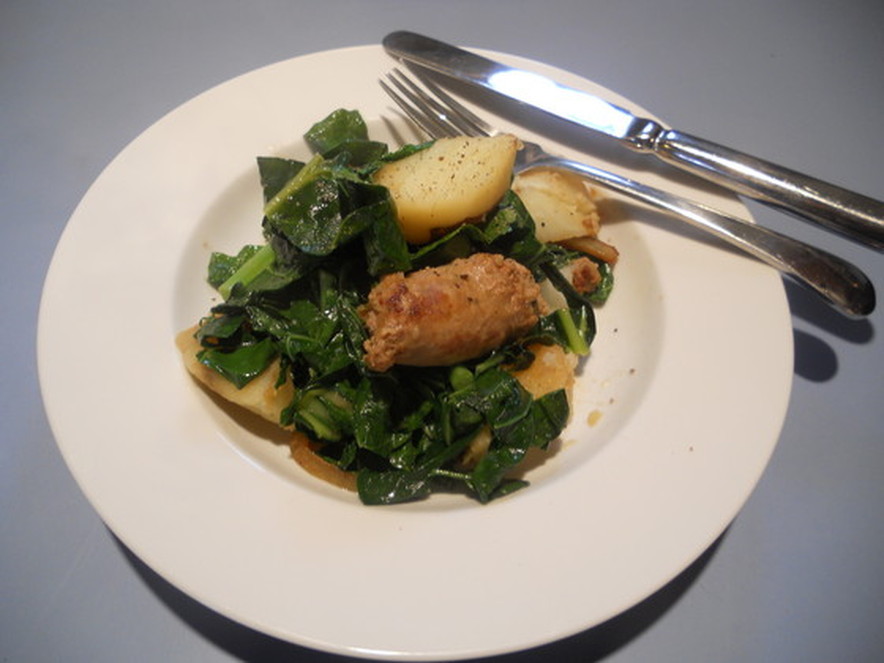 ---