Pot roast was not at all common at our Food Table when we were growing up. While we sometimes had beef stew on Thursdays, I really don't recall pot roast as such. The one roast we had every Sunday was a tender eye roast finished to a dark brown crust and served with mushrooms and caramelized onions. The unchanging accompaniments were mashed potatoes and peas. The eye roast followed the macaroni and gravy.


Pressure Cooker

When I interviewed other Italian Americans the responses were mixed. Some Italian America s had pot roast regularly. Some had pot roast made in a pressure cooker: a method that would render even the toughest cut of beef to something chew-able if not flavorful. In one case, my friend Chris, the pot roast was made with a tender eye roast. But her father was a butcher.


---

When I researched Italian pot roast recipes I found numerous variations online and in cookbooks. In Italy a pot roast is a "stracotto." In Italian, the word "stra- cotto" simply means "extra – cooked." Extra cooking, whether in an oven, on a stove or in a pressure cooker is what makes pot roast a pot roast. Long term braising transforms the toughest and least expensive meat cuts into something quite delectable. The one drawback with this dish is that the meat has very little fat. So even though the long slow cooking makes it fork tender, it can lack a certain velvety mouth feel. To give the dish some fat, several Italian recipes suggest larding the meat with pancetta or even prosciutto.


As my research continued a came upon a step in the recipes that distinguished those I found on Google Italy and those I found in on American Google and in Italian American cookbooks. In Italy the meat was marinated in wine for at least twenty four hours. Some recipes called not just for wine, but named their recipes for the use of specific, full bodied varieties such as a Barolo.


Among the Italian Americans that I spoke to the meat was not marinated in wine. In fact, no one I spoke to used wine in any preparation. For those Italian Americans who had wine at the table, the wine had two sources. Wine was either homemade, or store bought. If the wine was store bought it was certainly not elegant. The bought wine would be either Virginia Dare or Italian Swiss Colony. Only one of my uncles had homemade wine at the table.


D'Angelo Brothers

Another discovery from Italian sources was that the cut of meat to be used was very precise. It is a cut with a very curious name, "cappello del prete, " "the priest's hat." To find this cut there would be only one source, D'Angelo Brothers on 9th Street in Philadelphia.


---

Whether I am preparing a rabbit stew, a simple sausage ragú or a Christmas rib roast, I trust Sonny D'Angelo not only for the finest selections but for his thoughts on preparation. When I approached Sonny for the proper cut for this stracotto, I asked him for the traditional "cappello del prete."


To any grocery store butcher these words would have been met with a blank stare. But to Sonny it seemed a perfectly normal request. Sonny knew exactly what I intended. Sonny did not have that cut available at the time, but he would order it from his supplier.The order took some time. Winter flights from Montana were delayed. Eventually the order arrived.The cut was substantial. It was enough for me to divide: half for the freezer, half for this immediate recipe.


Stracotto is not a difficult recipe but it takes a great amount of time.You need at least two days to prepare it. Stracotto dates from a time when there was time: when time was devoted to culinary creations, not for television or internet or cell phones. More important, the time for this dish is the time when the home trembles with fragrant and rich aromas rising from the kitchen to warm the heart and mind in anticipation of the family Food Table.


_____________________________________________________________________
Stracotto, Italian American Pot Roast, the illustrated recipe
_____________________________________________________________________
What you need
Day before marinade
Beef Stock and boil

For a richer sauce, add beef stock you have made or a good quality bought stock that does not contain corn starch, sugar or other invasive elements.
Bring everything to a boil.


In the meantime, preheat the over to 300.

---

Oven

Set in the over for about four hours on a slower heat, 275 - 300.

---
Plate and serve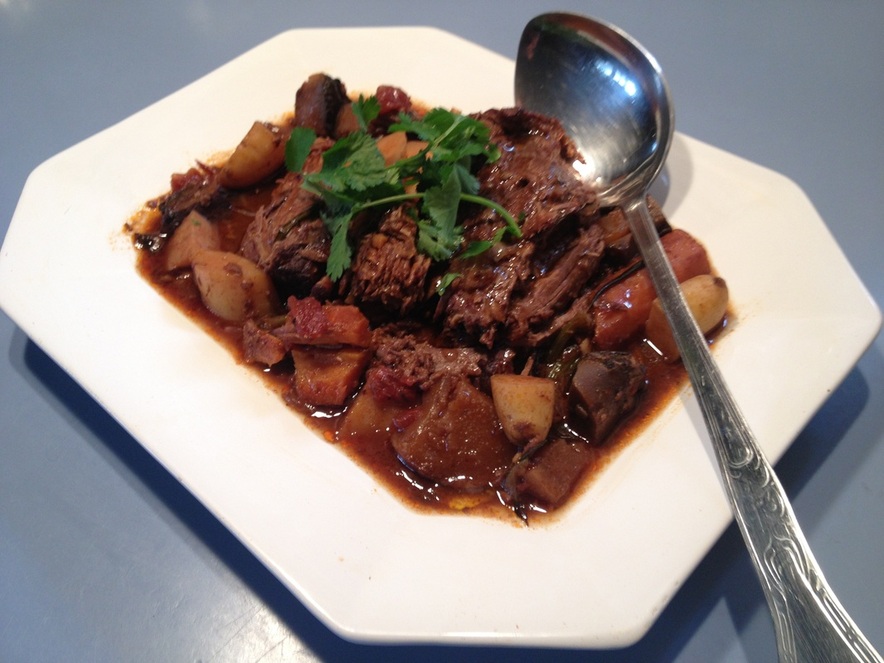 ---