The two most common clam chowders are labelled New England Clam Chowder or Manhattan Clam Chowder. While each version may be an excellent I think that both versions may often mask the taste of clams. In each version the clams are secondary to the overall base. The New England chowder, probably the more popular, is popular precisely because many people love their food enveloped in cream sauces. The Manhattan version, which probably originated with Italian immigrants, turns the soup into everyone's other favorite - tomato sauce.
In the version I present here, I've let the vegetables play a significant role, but to me, it's the clam that is in play. Consequently, this chowder is for people who truly love the musky, sandy sea bed taste of clams that recalls the salt marshes and beaches of New Jersey.

When I was a child we went down to the beach in front of our house and wiggled our feet into the sand at the water line. Within seconds our toes would touch the hard surface of clams. Our toes would lock around the clams. Then, with the clams in the grasp of our feet we bent over and plucked the clams from their sandy enclosure, Beach clams were big. When you grabbed them, and pulled them up. from the sand, they squirted water in your face. My guess is that this "in your face" response is what gave them their common name, "piss clams." These days, there are no more beach clams. There are almost no people who even think about gathering beach clams, Beach clams are part of a world now gone. So, now, even in New Jersey, you have to buy your clams.

The most important thing when working with clams or mussels is not to over cook them. Once you have steamed the clams, remove them from the heat.You will not return them to the chowder until all other items have been cooked and you are ready to serve the chowder. Leaving shell fish in the cooking broth turns them to snippets of leather.



What you need.
Be sure to set out all your equipment and ingredients before you do anything else. This is called "mise en place," (putting in place,) and it's the second
most important thing in cooking. (The first is "Clean as you go.")


Olive oil.
White wine: 1 cup
Water: Have a measuring cup ready. The amount of water will vary.
Clams: One dozen. This version uses top neck clams but any other large variety would do. While you can use small clams, I find small clams better for pasta sauces.
Clam Juice: A bottle of commerical clam juice.
Potatoes: 2 general purpose or baking potatoes
Red pepper: 1 large



Zucchini squash: 2 medium size
Carrots: 3 good size
Onion: 1 large sweet (Vidalia if possible.)
I do not recommend the bitter little yellow onions that come in red
net bags for any recipe.
Garlic: 4 or 5 cloves
Chili peppers: 2 or 3 Thai or Vietnamese chili peppers
(optional)
Dried basil
Salt
Pepper



Getting Started
Set out all your equipment and your ingredients.
The Vegetables
This is your major prep work. Get all these items ready before you do anything further.
Potatoes

Peel the potatoes,
(optional). For more fiber,
leave the skins on. Slice the potatoes in half and then again into quarters.
Put the flat side down and continue as you have above.

---

Chili Peppers (optional)

Split the chilies and using the tip of your knife remove the tiny seeds.
The seeds contain the harsh burn of the chilies.

---
The Clams
Cover the pot.
In the mentime, have a large bowl ready on the side.
The clams will be set aside while you prepare the soup base with the vegetables.


---

Finishing the clams

After about three minutes, lift the lid and check the clams. Clams take a little longer than other shellfish but you still have to watch them carefully. You need to remove them as soon as they open. If they are not yet open, cover again but keep checking every thirty
seconds or so. If the clam overcook, they will shrivel and become tough. You want nice, plump and moist clams.



---
Set aside the clams

When the clams have
opened pour the clams and their juice into the waiting large bowl. We'll come to chop the clams after they cool.
In the meantime- the soup base.


---

The Base - Onions

Add a bit of olive oil to the wok or pan.
Add the onions and stir until they become a bit translucent.

---
Chowder base

Simmer for about thirty minutes. If need be, add a bit more water. Don't let it dry out.
Taste for salt and pepper.
At this point you should have a pleasant base by itself.
Check the potatoes. Continue the simmer until they are soft.



---

Dice the Clams

Remove the clams from the shells and dice the clam meat.
Save some of the shells as a garnish for each dish.

---
Ladel into bowls, garnish with clam shells. Serve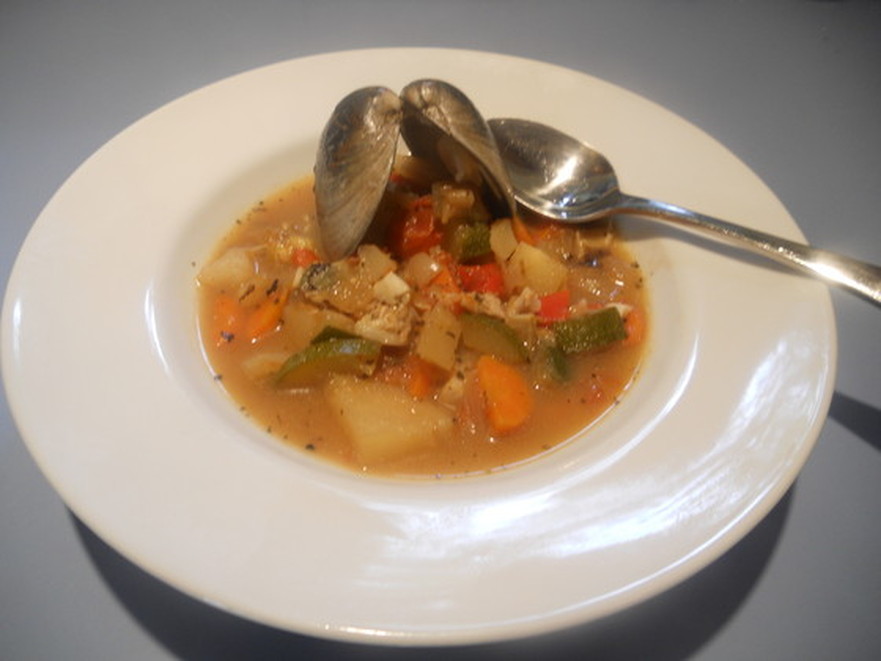 ---