Spring greens soup with chicken, chorizo and cannelini is something of a hybrid recipe that had its roots in Italy and Portugal. It's early spring but is it time when we can eat local? I don't think so. Yes, there are dandelions in the lawn and my friend Emma still has Swiss chard in her garden. But, in all practical considerations, the only thing growing wildly in this part of the country is the grass. The spring rains and cool evenings push that grass up a foot at a time. The spring grass is green and dense and vibrant, but, unless you are a cow or a sheep, you can't eat the grass.

Yes, it's Spring. The dogwood and azalea are in flower. The rhododendrons are waiting their turn: slight purple lips show from the pointed buds. Even though the chill of winter has passed and the days are getting warmer, I still long for a good hearty soup: minestrone, minestrone with greens and beans and pork. At the same time I didn't want winter hearty. I wanted spring time rich. In my head I wandered between Italian and Portuguese recipes. But there was no single recipe that came to mind. Then, slowly, recipes began to merge. Concepts replaced specifics. Where to begin? For the Spring, a beef stock was too heavy. The base would have to be chicken. With the chicken I could eat local. The Saturday farmer's market has a stand that offers local pastured chickens. But chicken stock alone was not enough. It needed a slight extra push. What to add? Something Portuguese called out. My Spring chicken soup needed pork, a chorizo. The chorizo would round out the depth without crossing into the heavier realm of a winter beef stock. While any Portuguese linguisa, Spanish chorizo or Cajun boudin would do, in this recipe I'm using a Niman's Ranch Kentucky Bourbon sausage. Niman's ranch seems a good source of humanely raised meets.

http://www.nimanranch.com/Index.aspx

So, that was it. Chicken stock with cured sausage would be my soup base.

Now I needed the greens. The farmer's market was of little help. It's simply too early in this part of the country. For the greens I had to rely on the produce market. Their greens are surely not local, but at this time of year, there is little other choice. I have to say that I also derive some satisfaction from the produce market as opposed to a grocery store. The vegetables in the produce market, sold direct from their packing crates, seem a bit more real than what you find under automatic water sprayers at a chain store.They are also far less expensive. Here in Philadelphia we have least two sources.There is the colorful 9th Street market in the city: what some folks call the "Italian Market,"

http://www.phillyitalianmarket.com/

Walking along the benches of vegetables and greens I hemmed and hawed over which to choose. The vision for my Spring chicken soup was still not clear. One thing was clear. The first question was which onion to use. Good soups always need some kind of onion. In Spring, Vidalia are appearing in the market. But a straight onion, even a sweet Vidalia, just didn't speak to me. I looked long and hard at the scallions, which are also called Spring onions. The name certainly fit what I was looking for, but scallions belong more to the Asian kitchen. They were not what I was looking for. Then, my eyes fell on the leeks. Leeks are very much part of the Mediterranean kitchen. They are fragrant and rich. They add a sweet and savory flavor to any soup.
The next question was which of the leafy greens to use. The market offered row after row of greens. But which of them were truly Spring soup greens. Cabbage and broccoli just didn't seem right. And other root vegetables such as turnips and rutabaga seemed to belong to a heavier winter soup. Still, there were carrots. Carrots add sweetness and they add color. Carrots would work in my Spring chicken soup. A bunch of carrots went into my basket. But, which would be my green greens? Swiss chard is always a good green to start with. Swiss chard is an excellent base. Swiss chard is substantive and tasty without the leathery bitterness of kale or collards. It can function alone as well as it does when used in combinations. One good sized bunch went into my basket. But Swiss chard is not necessarily a Spring green. What else might I use? Then my eye caught the spinach. No, the spinach was not local; but spinach is an early season green, a Spring green. Into my basket they went. Over in a corner a little cluster of Italian grandmother types were reaching and clutching and sorting in a bin of greens. I approached. These little round ladies in their blue print house coats were rummaging through leaves of dandelion leaves. Here was my other Spring green: dandelion greens. The dandelions joined my other selections in my basket. So, now, what did I have from the market? My basket held leeks, carrots, and Swiss chard, spinach and dandelion greens. Here were the fresh Spring greens I was looking for. These ingredients would certainly be sufficient for a simple soup, but I wanted something more, something with a deeper feel, something that would brace up the boiled greens.The soup needed two things. It needed beans as a kind of spine and it needed eggs as a kind of muscle. Back home, from my pantry came two cans of white cannellini beans; from the fridge came two eggs. Then too, I went back to the chicken that made the stock. I scraped off the meat from the thighs, shredded it and into the pot it went. What was missing? The Spring chicken soup needed nesting. I would serve it with toasted Italian bread and finish it with a poached egg and shaved cheese.


What you need

Equipment
Stock pot
Large soup pot
Sharp knife
Skillet for poaching



Ingredients


Chicken stock (and meat from the thighs),
Cannelini beans, two cans.
Cooked sausage, two or three links of your choice.
Leeks, one or two.
Carrots, two or three.
Swiss chard.
Dandelion greens.
Spinach leaves.
Eggs, three (not shown)
Parmesan or scamorza (not shown).




---
Getting it together: la mise-en-place

Chicken stock


Make a stock from fresh chicken, Save the meat from the bones.
Set the chicken aside.

Set out two or three eggs to finish the soup.


---

Carrots


Peel the carrots and slice into "coins."
Set the sliced carrots aside.


---

Sausage


Select the cooked sausage of your choice.
Slice and set aside.


---

Leeks


Remove the leathery green leaves. Check for sand and wash.
Slice the leeks and set aside.


---
The Soup

The Finish
The finish of toasted bread and poached egg is optional, especially when serving this soup as a left over. But try it this way for at least the initial serving.

Egg, toast and cheese


Have an egg ready to poach.
Toast a slice of hearty bread.
Grate some cheese, parmesan, or scormozza.


---

Poaching


Poaching is tricky.
Add white vinegar to a boiling pan of water.
Keeping very close to the water, gently turn and egg into the boil.
Use a spoon to gently fold the whites over the yolk.
Remove while the yolk is still liquid.


---
Serve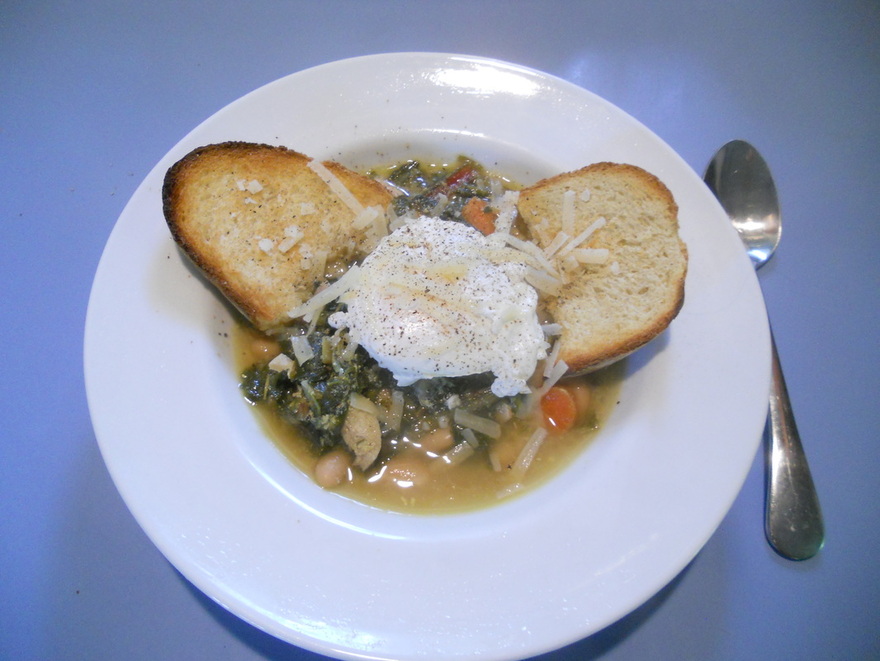 Ladle the soup.
Set out the toast.
Top with the poached egg grated cheese, salt and pepper.

---